Fri 9th Oct 2020
Intellectual property protection for tech innovation - AI Tech North Summit 2020, 12-13 October
On 12th and 13th October 2020, Virginia Driver and Tom Woodhouse of Page White and Farrer in Leeds will be keynote speakers at the AI Tech North Summit 2020, sharing their expert knowledge on intellectual property protection of artificial intelligence technology.

They will also be holding an online masterclass about what businesses can do to take control of their valuable technology innovation with an intellectual property strategy.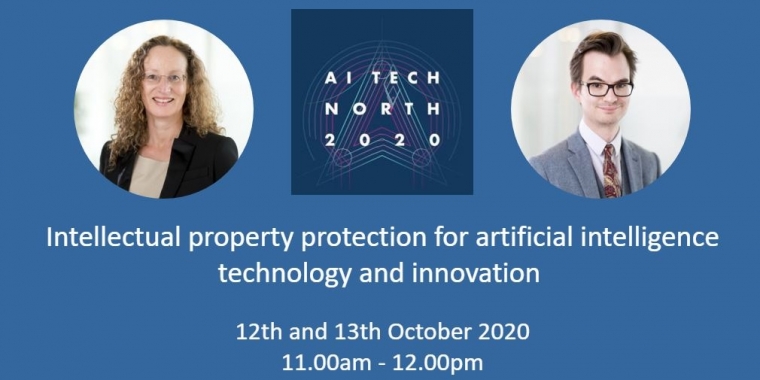 Keynote: Plugging the copyright gap – IP protection for tech innovation
Date: 12 October 2020
Time: 11.00am -12.00pm
Too often, tech companies rely on the concepts of copyright and trade secrets as protection for the software they are developing. This leaves serious gaps in your armour, as copyright only protects software code from being copied, and not the underlying ideas.
Many software services are delivered through a graphical user interface which has been expressly configured for usability. Even where code is inaccessible, the GUI reveals concepts and innovation which competitors may exploit.
Virginia and Tom will discuss how businesses can plug these gaps with patent protection and a strong intellectual property strategy.
Online masterclass: IP protection for your tech – where do you start?
Date: 13 October 2020
Time: 11.00am - 12.00pm
You have a valuable tech innovation, and you know you should be doing something to make sure you control and benefit from its exploitation. Whether you are founder, startup, scale up, or established business, Virginia and Tom will highlight some essential intellectual property strategies, answering questions such as:
is copyright enough?
can you get a patent for software or an AI model?
what IP protection do investors want to see?
Beware inadvertently giving your concept away for free! Even an open source community model needs to be underpinned by IP rights to remain in the right hands.
If you are an AI Tech North Community member, you can book two free sessions. To catch both of Virgina and Tom's talks on intellectual property protection, select 'Digital Transformation' and 'AI and Ethics' as your preferred sessions to attend.
Click here to book your tickets to the AI Tech Summit 2020 and find out more.
This briefing is for general information purposes only and should not be used as a substitute for legal advice relating to your particular circumstances. We can discuss specific issues and facts on an individual basis. Please note that the law may have changed since the day this was first published in September 2020.