Mon 20th Mar 2023
Page White Farrer hosts AIPLA Women in IP global event in Leeds – 27 April 2023
On 27 April 2023, Page White Farrer will be connecting with IP professionals in Leeds and with IP colleagues around the world in an international hybrid event coordinated by AIPLA (American Intellectual Property Law Association) Women in IP.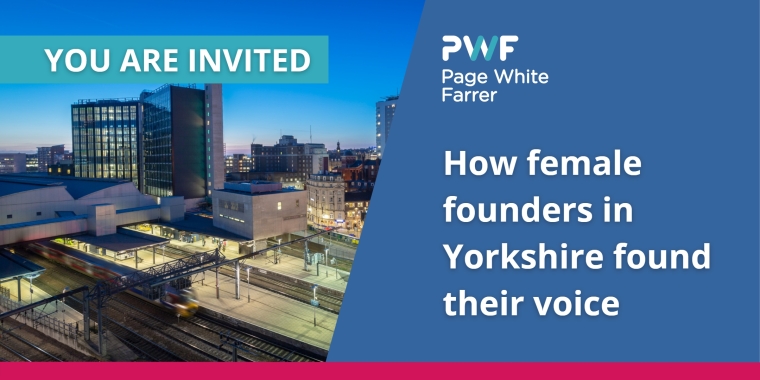 Date: Thursday 27 April 2023
Time: 5pm – 8pm
Location: Platform, New Station Street, Leeds, LS1 4JB
This year's theme is 'Owning Your Voice' and AIPLA is encouraging women working in intellectual property to fill up their space and speak up about their role in the profession. Click here to find out more about AIPLA Women in IP Law.
Page White Farrer are the host in Leeds, organising an event at their offices in Platform that showcases female founders from across Yorkshire and how they found their voice and established their companies in the region. Each speaker will discuss their unique experiences and share valuable insights gained throughout their journey, in building their business.
Click here to book your place.
Speakers will include:
Kelda Style, partner and European Patent Attorney at Page White Farrer;
Stuart Clarke, director of Leeds Digital Festival and PARSE (Peer Advisory Roundtables for Startup Entrepreneurs);
Becky Baker CEO and Founder of K9Nation and a member of Platform Female Founder incubator;
Danielle Platten, Founder of GoBubble;
Georgia Halston, CEO and Founder of Halston Group; and
Sarah Hex, Head of Deal Organisation & Partnerships at Mercia Asset Management PLC.
Agenda
4.45pm to 5.00pm – Arrival and registration
5.00pm to 5.15pm – Introduction by Kelda Style (Page White Farrer) and Stuart Clarke MBE (Paceline and Leeds Digital)
5.15pm to 6.00pm – Female Founders Panel, including:  Becky Baker (K9Nation), Danielle Platten (GoBubble), Georgia Halston (Halston Group) and Sarah Hex (Fund Her North)
6.00pm – Global AIPLA virtual link up
6.30pm to 6.45pm – Q&A, IP and Inclusivity by IP Inclusive and closing remarks
6.45pm to 8.00pm – Networking, drinks and canapes
Click here to download the full agenda.
Although this is an event run on behalf of an IP association and is aimed at women, we welcome anyone from the local business community championing diversity.
Please feel free to pass this invitation on to any colleagues who may be interested in attending the event.
Contact
For more information, please contact Stephanie Oates at stephanie.oates@pagewhite.com
This briefing is for general information purposes only and should not be used as a substitute for legal advice relating to your particular circumstances. We can discuss specific issues and facts on an individual basis. Please note that the law may have changed since the day this was first published in March 2023.