Tue 24th May 2022
A year in IP
Trainee patent attorney Siya Maini discusses her first year working in the IP industry after joining Page White Farrer.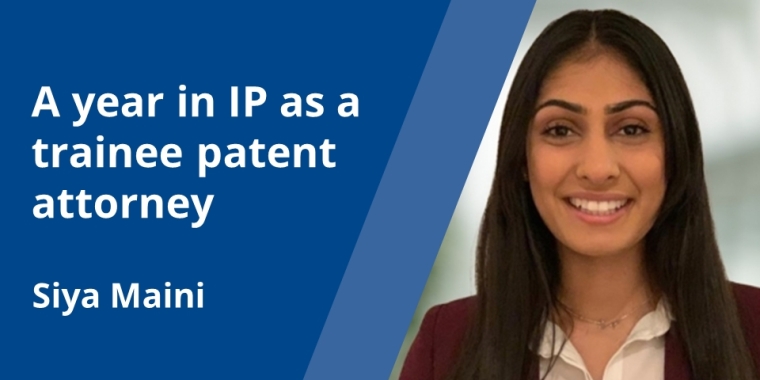 Choosing a career in intellectual property (IP)
After graduating from the University of Nottingham in 2020 with a Master's in Physics, I researched a variety of jobs that might have suited the skills I had acquired from my degree. Training as a Patent Attorney stood out to me, as it enabled me to utilise my scientific and technical background in a commercial environment and to explore an unfamiliar legal discipline.
I joined Page White Farrer in January 2021 and work pre-dominantly in electronics and telecommunications. However, the firm also advises companies and inventors in many different sectors, including AI and data science and mechanical engineering.
Studying and exams
Soon after joining the firm, I started the PGCert in Intellectual Property at Bournemouth University. The course is 6 months long and consists of weekly lectures, coursework, and a written exam. With little to no knowledge of the patent system at the start, the course was excellent in helping me get to grips with a wide variety of IP including design rights, copyright, trademarks, and patents.
Page White Farrer made it very manageable to study and work alongside each other. I was given 2 days a week to concentrate on learning the Bournemouth course content, which gave me a good insight into specific laws and practices in the different IP systems. During the rest of the week, I was able to apply my knowledge to real life cases.
My next step is to sit the European Patent Attorney pre-examination at the start of 2023 and to take some of the UK Final Diploma exams in October.
What to expect as a Trainee Patent Attorney at Page White Farrer
From the first day, I was exposed to real life cases and received hands-on training and I have continued to be supported by my supervisors, having frequent one-to-one meetings. Patent work is very diverse, and I spend a lot of time analysing specifications of new inventions and responding to examination reports. I have worked for both small clients and large businesses, and each one comes with different advantages and challenges.
In comparison to larger companies, prosecution work can be more difficult when working with smaller clients, however the technology is usually related to something you may have come across in day-to-day life and therefore easier to get to grips with.
In addition to work, Page White Farrer organises social events on the last Friday of every month where we can meet and chat to other colleagues in the firm in a more relaxed setting. Recently, I also had the chance to attend a talk at the Tech Wednesday event in Birmingham which was an excellent networking opportunity, and I attended the CIPA Student Conference where I was able to interact with other trainees at different firms.
Should you choose a career in intellectual property?
A career in IP can be challenging; there is a lot to learn and understanding new technologies can be tricky. However, the work is extremely interesting and varied; you are constantly looking at new inventions in many different fields. A career in IP is perfect for anyone who already has a strong technical background and wants to combine this with embracing a new legal domain. 
This briefing is for general information purposes only and should not be used as a substitute for legal advice relating to your particular circumstances. We can discuss specific issues and facts on an individual basis. Please note that the law may have changed since the day this was first published in May 2022.