Fri 5th Mar 2021
Patents for artificial intelligence – what are the issues which need to be addressed by the regulators?
With AI applications developing faster than the regulators can consult and implement new laws, what are the priorities to be addressed in regard to patents and artificial intelligence?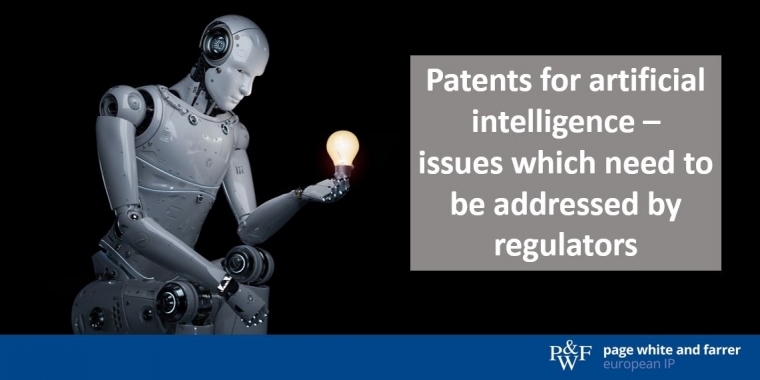 Many AI developers believe that it is not possible to secure protection for their code and simply rely on copyright, but this only protects the code rather than the underlying idea and leaves them exposed.
This tends to be based on the premise that algorithms, mathematical methods and computer programmes are not patentable as such - however, they may form part of a technical invention which is patentable.  The distinction is subtle, which is why it is important to consult a patent attorney with a successful track record in AI applications.
The legal framework for artificial intelligence is on the agenda for many global and national business organisations, from the World Intellectual Property Organisation to working groups such as the FCA's Artificial Intelligence Public-Private Forum, and it is a key topic at many conferences.
The British Government has stated in its AI Roadmap that it wishes to increase the UK's 'sovereign capabilities and attract researchers and technologists with the skills to develop leading products in a number of competitive sectors,' and that 'Government should also consider how to redefine procurement and intellectual property to encourage a creative technology ecosystem to achieve these aims.'
Patent attorneys Virginia Driver and Tom Woodhouse, who contributed to the 'Intellectual Property' chapter of the book The Law of Artificial Intelligence and have spoken at numerous events, pose a few questions in regard to the protection of AI and inventions derived from AI that need to be addressed to fulfil these goals:
How can the developers IP rights be properly protected?
How to assess the inventive step and patentability?
What are the implications for disclosure?
Does an invention by AI require patent protection – or could the patent system become swamped with computer-generated inventions to the detriment of human innovators?
Is a human inventor required and, if not, how would ownership and inventorship be determined?
It is possible for inventors to conceal the role of AI, so how can this be prevented and avoided?
What are the broader implications for cases of patent infringement, liability, and dispute resolution?
How can the risk of bias in AI from unrepresentative data be balanced with the rights of IP holders to prevent the use of their IP?
Are new IP rights required for data, given its critical importance?
The book, entitled The Law of Artificial Intelligence, explores all types of intellectual property protection and the IP chapter covers:
patentability of AI, AI-devised or AI-assisted inventions;
inventiveness in using AI;
sufficiency and plausibility;
copyright and weaknesses in protection;
data and database rights;
design rights – registered and unregistered;
trade marks;
trade secrets and confidential information; and
infringement of intellectual property.
The book recently received a very positive review from Leah Grolman, a member of the Society for Computers and Law, who describes the text as a 'valuable resource' and 'the fastest way to identify and explore the legal and ethical issues for those who want to develop or start using AI in their business'.
Click here to read the book review of The Law of Artificial Intelligence.
Click here to download a copy of the table of contents for the Intellectual Property chapter of The Law of Artificial Intelligence.
This briefing is for general information purposes only and should not be used as a substitute for legal advice relating to your particular circumstances. We can discuss specific issues and facts on an individual basis. Please note that the law may have changed since the day this was first published in March 2021.