Thu 22nd Jul 2021
What is a patent pool and how does it operate?
Services: Applying for a patent overseas, Board support and consultancy, Innovation capture, International reach, IP licensing, IP portfolio management, IP strategy, Obtaining a patent, Patents, Preparing for funding or flotation, Start up or scale up
Sectors: Cleantech and renewables, Electronics and telecoms, Materials science, Mechanical engineering, Software patents
Where a company is developing technology which needs to adhere to industry-wide standards, then it may be advantageous or necessary to participate in a patent pool.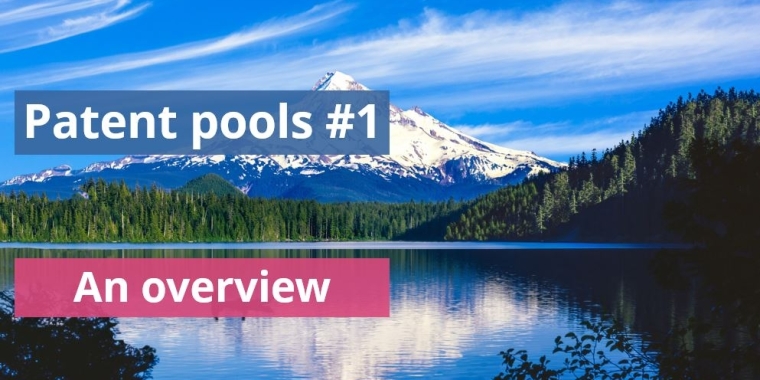 Olaf Ungerer, a German and European Patent Attorney in Munich, provides an overview of patent pools and how they operate in the first of a series of articles on the subject. Olaf is a member of the German GRUR committee on patents and utility models, which is currently supporting the German Federal Ministry of Justice and Consumer Protection in connection with a contribution paper about a consultation on standards essential patents (SEPs) with the European Commission. The below article is derived from this publicly available contribution paper. For more information, see the 'SEP Experts Group' paper Contribution to the Debate on SEPs.
What is a patent pool?
Patent pools can be defined as an agreement between two or more patent owners to license one or more of their patents to one another or to third parties. Often, patent pools are associated with complex technologies that require complementary patents in order to provide efficient technical solutions.
Patent pools have a long history. One of the first patent pools was formed in 1856 for sewing machines.
Nowadays, patent pools frequently represent the basis for industry standards that supply firms with necessary technologies to develop compatible products and services, for example in the field of mobile communications, information coding, public health etc.   They may concern technologies that are yet to be fully developed.
There is a general consensus on the positive and efficiency-enhancing effects of patent pools (see our article on the pros and cons of patent pools).  However, there may be instances where the creation of a patent pool may lead to the potential violation of competition or antitrust rules (see our article on whether patent pools are anti-competitive).
How does a patent pool operate?
In a patent pool, patent rights are aggregated (pooled) among multiple patent holders to be made available to member and non-member licensees. Typically, the pool allocates a portion of the licensing fees it collects to each member in proportion to each patent's value.
A patent pool may take the form of a joint venture, created by two or more patent holders for the purpose of sharing their intellectual property rights.
A patent pool agent will need be established, as shown in Figure 1 below.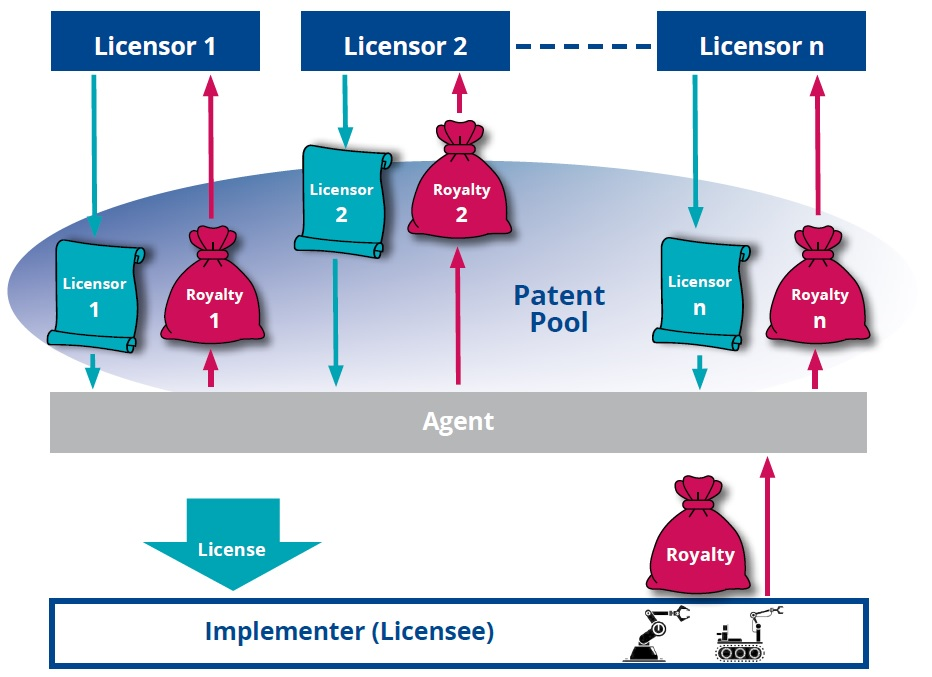 The agent has three key functions:
essential patents, which may be owned by multiple holders (the licensors), are gathered in or collected by the agent;
a user or implementer of a standard (the licensee) can obtain licenses to use all the patents within the patent pool through this agent; and
the license fee to be paid by the licensee is calculated by the patent pool agent and the agent pays each licensor in proportion to the number of its patents.
Standards-based patent pools
In more recent times many patent pools have been formed around technology standards in large part to create easier access to patents essential to the implementation of these standards and to reward companies that contributed their patented technologies to these standards.
A standard-based patent pool is an arrangement among multiple patent holders to aggregate their standard essential patents ("SEPs") and to license these as a single package under standard terms and conditions to parties implementing the relevant standard.
Licensors participating in the pool may also be implementers of the standard and can (and in many instances, are required to) take a licence from the pool as well. The pool establishes a revenue distribution method according to which revenues collected from pool licensees are allocated to the licensors.
Patent pools usually require an independent evaluation of patents submitted by the licensors to determine whether the patents are essential (often referred to as "certified patents") before these are listed by the pool as an essential patent. Some pools leave it to the licensor's discretion as to how many patents to submit to the independent evaluator for certification, whereas others oblige licensors to submit all patents they believe to be essential at any point in time for evaluation.
There is an incentive for licensors to have patents from their portfolio certified because the revenue sharing methodology is in most cases largely dependent on the number of certified patents. The independent evaluation process also provides licensees with more certainty with regard to the essentiality of patents being licensed through the pool, as compared to evaluations performed by the licensors themselves.
In almost all instances, irrespective of how many certified patents a licensor has in the pool, the licence offered by the pool grants rights under the licensor's entire portfolio of essential patents for the standard, regardless of whether the patents have been evaluated or identified by the pool.
How we can help
The team patent attorneys at Page White Farrer includes experts with deep knowledge of a wide range of technologies (see our sector specialisms) including standardized technologies.  We advise inventors and companies on intellectual property strategy, which includes assessing whether licensing via a patent pool or offering patents to a pool would be commercially advantageous. We can also undertake an essentiality evaluation to determine whether a standard essential patent may be entered into a pool.
For more information on patent protection across Europe, please contact our expert attorneys by email to webenquiry@pagewhite.com.
This briefing is for general information purposes only and should not be used as a substitute for legal advice relating to your particular circumstances. We can discuss specific issues and facts on an individual basis. Please note that the law may have changed since the day this was first published in October 2021.