Fri 10th Sep 2021
Are patent pools anti-competitive?
Services: Applying for a patent overseas, Board support and consultancy, Innovation capture, International reach, IP licensing, IP portfolio management, IP strategy, Obtaining a patent, Patents, Preparing for funding or flotation, Start up or scale up
Sectors: Cleantech and renewables, Electronics and telecoms, Materials science, Mechanical engineering, Software patents
One of the greatest concerns regarding the use of patent pools, especially by technology giants, is that collaboration can also lead to anti-competitive practices.  So, while patent pools have many benefits, especially for emerging technologies, the risks cannot be ignored.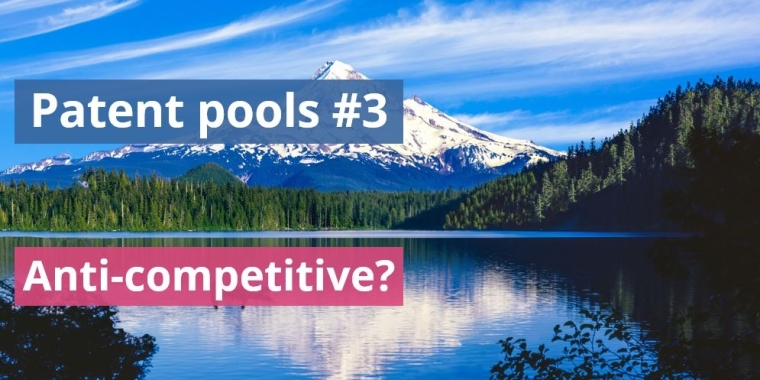 Olaf Ungerer, a German and European Patent Attorney in Munich, summarises the debate relating to whether standards-based patent pools are anti-competitive in the third of a series of articles on the subject.
Olaf is a member of the German GRUR committee on patents and utility models, which is currently supporting the German Federal Ministry of Justice and Consumer Protection in connection with a contribution paper about a consultation on standards essential patents (SEPs) with the European Commission. The below article is derived from this publicly available contribution paper. For more information, see the 'SEP Experts Group' paper Contribution to the Debate on SEPs.
Background
Click here for links to:
When may a patent pool violate anti-competition rules?
Instances where the creation of a patent pool could lead to a possible violation of competition rules will depend on the applicable antitrust rules, for example:
the creation of patent pools may distort competition if pro-competitive aspects do not outweigh the (potential) limitations on competition;
the licensing clauses may limit the rights of the patent holders and therefore infringe applicable antitrust statutes; or
the patent pool may lead to anti-competitive collusion among competitors (in other words, a patent pool may be regarded as a cartel).
Whether patent pools may trigger antitrust scrutiny depends, among other factors, on the technologies or patents concerned.
As for the nature of the pooled technologies/patents, they can be categorized as (i) complementary or (ii) substitutes; and, in a standard setting environment, as (iii) essential or (iv) non-essential. These categories are important for assessing the impact on competition.
Antitrust Guidelines for the Licensing of Intellectual Property
Because of the collective nature of the activities of patent pools, they have always been subject to scrutiny by regulatory authorities. The United States Department of Justice ("DoJ") and the Federal Trade Commission ("FTC") issued Antitrust Guidelines for the Licensing of Intellectual Property in 1995.
According to the guidance provided by the FTC and the DoJ, a patent pool should fulfil the following main conditions to minimize antitrust risks:
patents licensed by the patent pool must be technically essential;
technical essentiality must be verified by independent evaluators;
patent pools may also include commercially essential patents, for which there is not an economically viable alternative when implementing a standard;
licensors must retain the right to license their patents independently from the patent pool for any purpose, including for products licensed by the pool;
pool licences should be available to all companies for the products or services complying with the relevant standard and licensed by the patent pool;
grant backs under essential patents for the same standard from licensees are allowed as a condition for receiving a pool licence (such grant-backs need not be under the same terms offered by the pool); and
patent pools should not influence price setting of products by licensors/licensees using the patents licensed by the pool.
A patent pool which operates in accordance with the above safe harbour conditions will not normally be challenged by competition authorities, but they are not immune from competition law scrutiny completely. Competition authorities may still institute an antitrust investigation into a patent pool in response to an antitrust complaint filed against the patent pool, for example by a prospective licensee.
How we can help
The team patent attorneys at Page White Farrer includes experts with deep knowledge of a wide range of technologies (see our sector specialisms) including standardized technologies.  We advise inventors and companies on intellectual property strategy, which includes assessing whether licensing via a patent pool or offering patents to a pool would be commercially advantageous. We can also under-take an essentiality evaluation to determine whether a standard essential patent may be entered into a pool.
For more information on patent protection across Europe, please contact our expert attorneys by email to webenquiry@pagewhite.com.
This briefing is for general information purposes only and should not be used as a substitute for legal advice relating to your particular circumstances. We can discuss specific issues and facts on an individual basis. Please note that the law may have changed since the day this was first published in October 2021.