Thu 9th Apr 2020
Are you giving away your intellectual property for free?
Patent attorney Virginia Driver, who specialises in intellectual property strategy and protection for the tech and electronics sectors, will be presenting at the online Bruntwood SciTech Wednesday event on 15th April.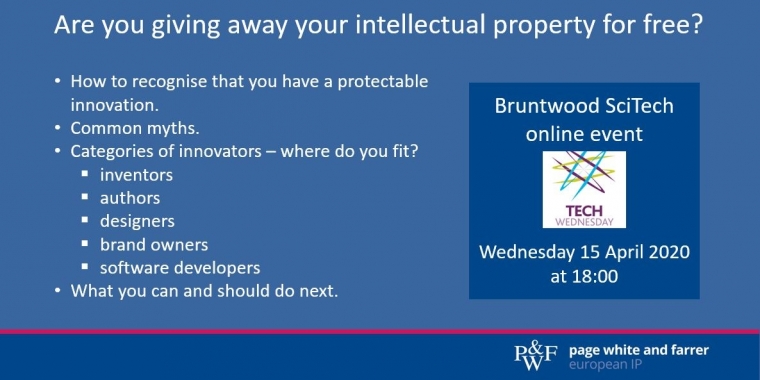 She will be discussing:
How to recognise that you have made a protectable innovation and take steps to keep ownership of your ideas.
Common myths that often result in protectable innovation being given to the public at large.
Categories of innovators – where do you fit?  
Inventors, authors, designers, brand owners, software developers.
What you can and should do next. 
The event will be taking place online at 6pm and will also be screened on Youtube.
Click here for further information
Tech Wednesday is the monthly meet-up for technological and entrepreneurial communities that are part of the Bruntwood Collective.  Each month a number of tech start-ups and individuals present and demo innovative projects to the group for feedback and discussion, as well as exploring expert topics such as intellectual property.
Bruntwood SciTech's portfolio is home to more than 500 science and technology businesses ranging from digital start-ups to global life sciences companies. It operates in Manchester, Birmingham and Leeds, Liverpool and Alderley Park, Cheshire.
This briefing is for general information purposes only and should not be used as a substitute for legal advice relating to your particular circumstances. We can discuss specific issues and facts on an individual basis. Please note that the law may have changed since the day this was first published in April 2020.