Thu 22nd Sep 2022
Realising the potential of your IP at Leeds Digital Festival 2022
Page White Farrer hosted an event during Leeds Digital Festival 2022 explaining how to realise the potential of your intellectual property.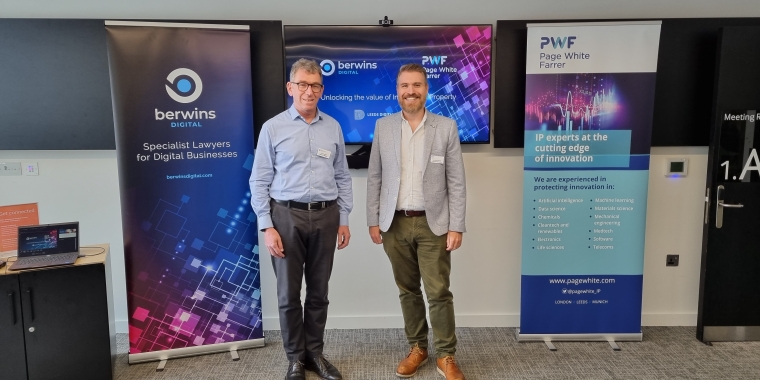 On 22 September, European patent attorney Andrew McKinlay gave a talk about safeguarding intellectual property and obtaining patents for tech startups alongside Paul Berwin and Elle Margerison of Berwins Digital.
The true value of a tech business does not lie in buildings and physical assets – it lies in its people, and in the intellectual property they create. But what many founders overlook is that, although they may have created IP, they do not automatically own it – and even those who do often fail to unlock its true potential.
Andrew, Paul and Elle discussed:
what IP is and what it is not;
types of protection for intellectual property;
main infringement issues in the creative and tech sector
steps you need to take to properly protect your IP;
pitfalls facing companies which fail to do so; and
Leeds Digital Festival 2022
Leeds Digital Festival celebrates the full range of technology and digital culture, including developments in AI, data and software.
Page White Farrer is sponsoring Leeds Digital Festival this year which takes place 19-30 September 2022. Click here to find out more about Leeds Digital Festival.
This briefing is for general information purposes only and should not be used as a substitute for legal advice relating to your particular circumstances. We can discuss specific issues and facts on an individual basis. Please note that the law may have changed since the day this was first published in September 2022.