Sat 17th Oct 2020
Benefits of registering a design missing from UKRI's 'Design in Innovation Strategy'
Innovate UK has published its updated 'Design in Innovation Strategy' to cover the period 2020 to 2024, as part of the government's commitment to increase public and private investment in R&D activities.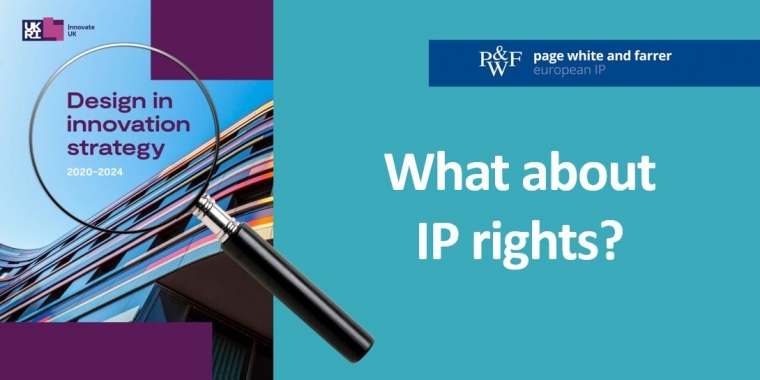 It emphasises the importance of design:
Effective innovation requires more than technical research and development: it must also include design activities to create solutions that are better, more desirable and fit-for-purpose.
The report also highlights how the UK is a recognised centre for design excellence and …
… there are clear opportunities for businesses to create greater value through design, by embedding it as a process, managing it more effectively and adopting it as a strategic differentiator.
"But for businesses and the UK to capture this economic value, it is necessary to take steps to protect the intellectual property in innovative designs," says intellectual property expert David Roberts of Page White and Farrer in London. 
"Registering a design with the UK and EU intellectual property offices provides innovators with a valuable form of IP protection.  Sadly, this is often overlooked, and Innovate UK seem to have missed a trick by omitting to explicitly mention intellectual property in their latest strategy document."
One of the key objectives in the strategy is:
Helping businesses maximise the value contribution of design.
"Protecting the IP value in unique designs is critically important if you wish to protect the overall value to the business. While the internet has made it easier for designers to promote their products around the world, it has also made it easier for counterfeiters to copy those designs, effectively stealing IP assets and eroding business value."
Click here for a copy of Design in Innovation Strategy 2020-2024.
Benefits of registering a design
By registering a design, a business will benefit in a number of ways:
this protects any aspect of your design, for example both the product's shape and/or decoration;
it gives you the right to prevent others from using the design for up to 25 years: and
it makes taking legal action against infringement and copying more straightforward.
"We welcome the latest Design in Innovation Strategy, with its focus on 'What makes good design' and 'the design value staircase' and the need for 'strategic design leadership'.  Intellectual property is an important aspect of the latter two, and we'll hope to see it clearly included in the next strategy!"
Free initial consultation regarding intellectual property protection
Our IP attorneys can provide a free initial consultation of up to 30 minutes for anyone who is interested in using our services to protect their intellectual property.
A discussion can be arranged by telephone, or at our offices in London, or Munich.
Click here for more information and to arrange an initial IP consultation.
This briefing is for general information purposes only and should not be used as a substitute for legal advice relating to your particular circumstances. We can discuss specific issues and facts on an individual basis. Please note that the law may have changed since the day this was first published in October 2020.