Fri 13th Nov 2020
Why you should register your designs in the EU before the end of 2020
Services: Design rights, IP portfolio management, IP strategy, Start up or scale up
Sectors: AI and data science, Brand owners, Chemistry, Cleantech and renewables, Electronics and telecoms, Fashion, Food and drink, Life sciences and health, Materials science, Mechanical engineering, Software patents
After the UK leaves the EU at the end of the Brexit transition period on 1 January 2021, new EU registered community designs (RCDs) will no longer provide registered design protection in the UK.

After 1 January 2021, if you wish to obtain both EU and UK registered design protection, it will be necessary to apply for these registered designs separately.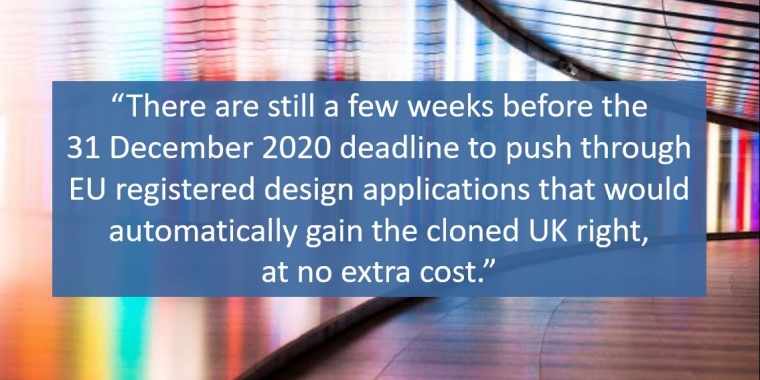 An opportunity to save money
For EU RCDs that are registered and fully published by 31 December 2020, cloned UK design registrations will be created by the UKIPO at no extra cost to the EU RCD holder.
Read this article for a more detailed analysis of post-Brexit cloned UK registered designs.
According to partner and design attorney David Roberts:
"There are still a few weeks before the 31 December 2020 deadline to push through EU registered design applications that would automatically gain the cloned UK right, at no extra cost."
Although there are only a few weeks remaining, EU RCDs can be registered very quickly (often within a week of filing if all filing requirements are met).  Therefore, if you are interested in obtaining EU and UK design right protection via a single EU filing, we suggest that you contact your usual contact at Page White and Farrer or either of the authors of this article as soon as possible.
How long does it take to obtain an EU registered design?
The typical time period for an EU registered design application to be registered and published is around 1 to 3 weeks assuming all requirements are met at the time of filing, although it can be even quicker than this. 
If you wish to obtain both EU and UK registered design protection at minimum cost, it is therefore best to file your EU registered design application as soon as possible in order to obtain a registered and published EU registered design by the end of 2020, which will provide you with a cloned UK registered design at no cost. 
Further, when filing the EU registered design application, you will want to ensure the application does not fall into any of the typical pitfalls that may hold up the formal examination and registration of your application at the EUIPO such that your application is not registered by 31 December 2020.
How can we ensure we meet the deadline?
While these are no guarantees, the following tips can help to avoid typical pitfalls at the EUIPO and can maximise the probability of obtaining a cloned UK design at no extra cost on 1 January 2021:
Use the fast track route for EU registered design applications. There is no official fee for using the fast track route and it can reduce the time from filing to registration of an EU registered design to two working days as opposed to one to three weeks for the standard route.
Ensure that the views of the design are consistent with one another. Any inconsistency may lead to an amendment or explanation required by the EUIPO which will delay the registration of the design.
Do not request to defer publication of your design. Although this can be useful from a strategic point of view in some cases, deferment of publication will delay the publication of the EU registered design beyond the end of 2020 deadline.
Provide a Locarno class for your design rather than a custom product indication. Any use of custom product indication will remove the application from the fast track.
Apply online using the EUIPO's four-step form. This is a requirement to be accepted onto the EUIPO fast track route.
Attach the relevant priority documents (scanned copies are sufficient) or provide a relevant WIPO DAS access code when filing the registered design application. This avoids the EUIPO delaying registration while requesting evidence of the priority document.
Do not include any wording in your design views. This will lead to a formal objection from the EUIPO which will need to be corrected.
Do not assume that design drawings that have been registered in other jurisdictions will satisfy the EUIPO's formal requirements.
Bear in mind that the EUIPO is closed from Thursday 24 to Thursday 31 December 2020 for the Christmas break. This will delay the registration and publication of designs around this period.
How we can help
If you are interested in obtaining EU and UK design right protection via a single EU filing prior to the Brexit deadline, we suggest that you call your usual contact at Page White and Farrer or contact one of the authors of this article as soon as possible.
This briefing is for general information purposes only and should not be used as a substitute for legal advice relating to your particular circumstances. We can discuss specific issues and facts on an individual basis. Please note that the law may have changed since the day this was first published in November 2020.