Mon 19th Dec 2022
Careers in Ideas – inclusive mentoring for a career in IP
As part of its dedication to promote inclusivity in the field of intellectual property, patent attorney David Roberts has been providing 1:1 mentoring to an undergraduate student, Sofie Spasov.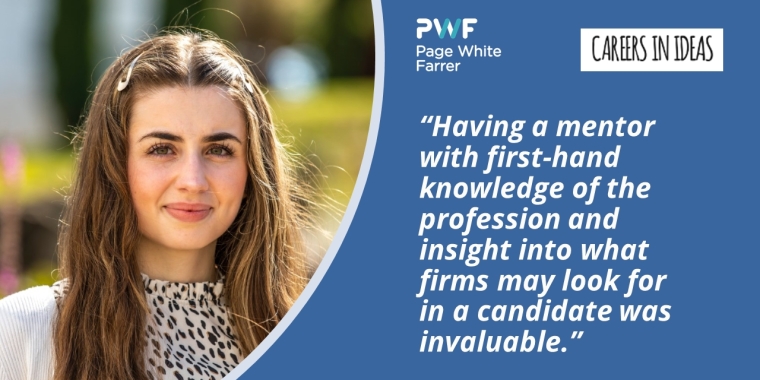 The Careers in Ideas mentoring scheme was set up by IP Inclusive in 2021 to help students, graduates and young professionals considering a career in intellectual property to navigate their way into the profession.
Sofie is currently studying engineering at Aberdeen University where she first heard about the scheme at an online careers event run by Careers in Ideas. After submitting her interest, she was matched with David Roberts, who is also responsible for diversity and inclusion at Page White Farrer.
'I chose David as he studied engineering at undergraduate level like myself,' says Sofie, 'I had been interested in a career in patents, but didn't learn about the profession until I was at university. I hoped to find out more from someone who had experience working both as a patent attorney and as an engineer.'
During the mentoring sessions, David and Sofie discussed:
the role of IP in engineering;
how best to prepare for a career in IP;
what to expect when working in a professional firm;
tips for her CV and interviews;
practical guidance on the application process for various opportunities; and
various questions about a career in IP.
In summer 2022, Sofie was successful in obtaining a place on a patents summer scheme, enabling her to gain valuable hands-on experience in IP.
'Having a mentor with first-hand knowledge of the profession and insight into what firms may look for in a candidate was invaluable,' says Sofie, 'I would highly recommend mentorship and I have found the Careers in Ideas program extremely useful, not only in getting advice on specific applications, but also in learning about the IP profession and other more general career-related topics.'
Mentors and mentees can register their interest in the Careers in Ideas scheme by contacting the scheme coordinator Carol Nyahasha via email on carolcareersinideas@gmail.com.
Page White Farrer is also part of the Black Lawyers Matter mentoring scheme.
This briefing is for general information purposes only and should not be used as a substitute for legal advice relating to your particular circumstances. We can discuss specific issues and facts on an individual basis. Please note that the law may have changed since the day this was first published in December 2022.