Mon 25th Apr 2022
Carole Hawkins remembers half a century in IP with Page White Farrer
Back in 2011, HR Magazine announced that there was 'no such thing as a job for life' any more, with only a very small number of employees expecting to spend their whole career in one job.  Fortunately there are always exceptions to such rules, one of which is our very own Carole Hawkins who has worked in our IP Records and Renewals department in London for over 50 years.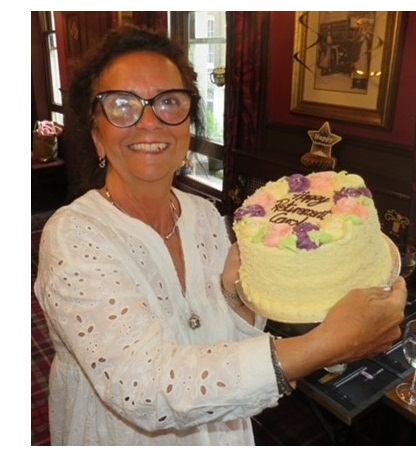 Carole, who is retiring from Page White Farrer in London in April, has seen plenty of changes over the last half a century and shares some of her memories of the firm.
How did you get into a career in intellectual property?
It was June 1971 and I left school at 16 with six GCSE's and a shorthand typing certificate. I started working at Lloyds Bank and hated every minute. By October of that year, I had applied for the post of junior secretary advertised in the (then national) newspaper The Evening Standard and my career at Page White Farrer started.
I worked for Mrs Lispcomb, the office manager, and there were only three partners: Colonel John Oakley, Mr Ernest Bowles and Mr John Haggart.  There were around 20-25 staff and the office was situated at 27 Chancery Lane, where the firm occupied a section over two floors. 
How do you remember the firm in the early years?
I actually came across Mr. Farrer, who by this time was a consultant.  He still had his own office, which he popped into now and again in his very "English" bowler hat. On one occasion, I was instructed to take him a cup of tea on a tray and I shook from head to toe while taking it in, fearing I would drop it. He was a small man but with an extremely fierce voice – scary for a young girl!
There were no computers, only manual typewriters, fax machines and ancient handle-operated copying machines.  I learnt all the general aspects of the running of the firm, which included the reception. After a couple of years, when new partners Lawrence Sawers, David Richards and Roger Palmer joined, I was promoted to secretary for Lawrence Sawers.
I settled in and the rest is history. I married and had my first child George in 1979 and during my period of maternity, the office moved to Plough Place in Fetter Lane. Precise dates escape me, but I know that the 1980s was the time when computerisation became necessary.
On a visit to Page White Farrer with my new baby, I was asked 'When are you coming back?' and cheekily I said, 'I will come in one day a week and do some data entry'. This was the arrangement for the next three years until my second son Tommy was born. After another break from work, I continued to work for two days a week.        
I always felt fortunate to be able to work and have a balanced family life and this is something that Page White Farrer has always helped to provide for me and in turn I have, I think, repaid that kindness with a good work ethic – always happy to fit in to any role. It worked well.
Next was the move to 54 Doughty Street, after which life threw me a few personal curve balls. I came back to work full-time for the next few years, and eventually reduced to part time again.
Can you recall any career highlights?
I have made many friends over the years and keep in contact with lots of them, one of whom is a dear friend who was secretary to Roger Palmer. She is older even than me, and we still spend special occasions together, including a few Christmas lunches.
I lost some good friends through illness and feel that I've experienced many sad and happy times in my life. Page White Farrer has been a consistent part of that growing old process.
Looking back, I could have probably made myself more of a career by taking the opportunity to do courses and exams, but my family commitments always seemed more important and the life balance I achieved by just fitting in where and when I was needed worked well for me.
As I once said to someone much more qualified than me, 'You can have all the qualifications you like, and that's great. I respect that, but I know Page White Farrer inside out and sometimes that works just as well.' 
There have been many more happy times than otherwise over the past 51 years of my working life with the team at Page White Farrer.
What are your plans for retirement?
We have lots of plans to travel and we have already arranged a break in Greece and seven weeks in our little apartment in Tuscany. We want to travel around this country much more than we have done, with Pembrokeshire and Scotland on our list. And generally enjoying life, hopefully!
After all the enjoying ourselves, I think maybe we will need a gym membership…!
The partners and everyone at Page White Farrer wish Carole all the very best for her future adventures, and a happy and healthy retirement that is thoroughly well-deserved.
This briefing is for general information purposes only and should not be used as a substitute for legal advice relating to your particular circumstances. We can discuss specific issues and facts on an individual basis. Please note that the law may have changed since the day this was first published in April 2022.