Mon 24th Sep 2018
Cheers! Is intellectual property overtaking hops as the main ingredient in German beer?
With a history dating back to the Sumerians, Egyptians and Celts - there is still much work going on to optimize beer production with new inventions in the field of brewing, particularly in Germany.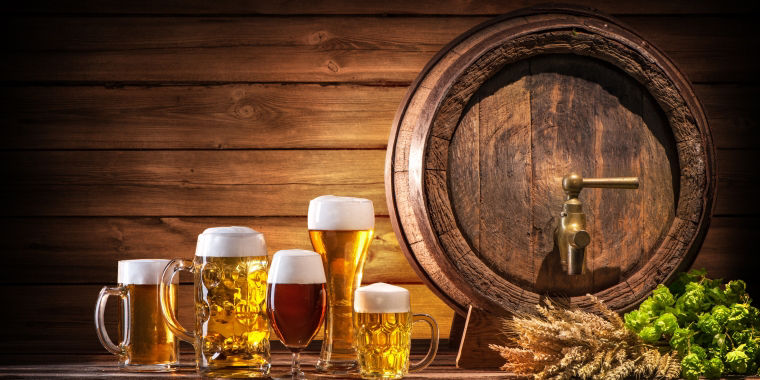 Every year in April German Beer Day commemorates the Bavarian state order of 23 April 1516 which stipulates that only hops, malt, yeast and water should be used to make beer - the birth of the German Purity Law.
However there is more to making beer than the pure ingredients, German and European Patent Attorney Olaf Ungerer takes a serious look at the intellectual property rights that have emerged around this ancient cultural asset – with information provided from the German Patent and Trademark Office website.
'Although breweries often value their traditions highly, today state-of-the-art technology is behind one of the oldest drinks in human history. This is demonstrated not least by the large number of patent applications relating to the brewing process filed at the Deutsches Paten- und Markenamt (DPMA).'
The oldest brewing recipe is about 5000 years old - one of the most recent inventions on beer received by the DPMA was published only a few weeks ago ('Verfahren und Vorrichtung zur Anschwemmfiltration eines Unfiltrat', DE102017100640A1).
One example is the 'process for time-optimized maturing of beer for export overseas' (DE102016006270A1): the beer matures on board the transport ship using special transport containers. This enables the brewery to get its fresh beer on its way more quickly without having to artificially shorten the maturing time in the brewery for cost reasons or having to conserve the beer in order to prepare it for the long journey overseas.
The eye drinks too: for many beer connoisseurs a beautiful head of foam is important. DE102010030284B4 therefore proposes a new 'process and arrangement for stabilizing the foam of beer'.
An important trend in recent years has been towards non-alcoholic or low-alcoholic beer, the taste of which is still being optimized, for example with the 'process for reducing the alcohol content' (EP2921550B1).
Further current applications optimize the brewing with 'high gravity blending processes' (WO002015049353A1) or are simply called 'Process for the production of beer' (WO002013102644A1). Inventors develop 'New production machines for the production of beer (...) without the previously used technical equipment and components' (DE202016000870U1) or new 'processes and equipment for tapping and/or producing beer' (DE102016107729A1).
Even a process that is thousands of years old can apparently be further optimized...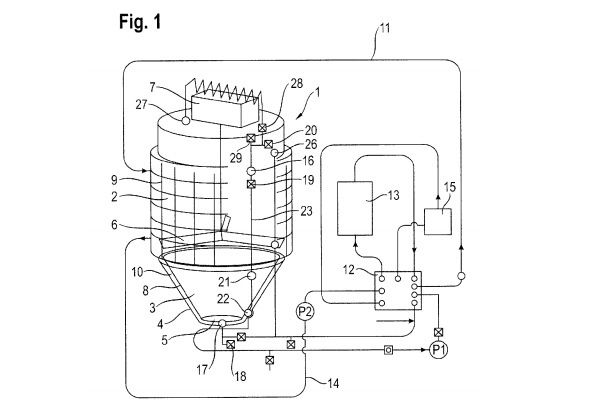 Process for the production of beer (WO 002015049353A1)
The demand is there: in 2017, German breweries sold a total of around 93.5 million hectoliters of beer. However, beer sales fell by 2.5% or 2.4 million hectolitres compared to the previous year, according to the Federal Statistical Office (Destatis). The decline in beer consumption has therefore continued: since 1993, total beer sales have fallen by 18.6 million hectolitres or 16.6%.
Also in the beer stronghold Bavaria less and less barley juice is drunk. Nevertheless, beer sales by Bavarian breweries have been rising again since 2010 because exports are flourishing. 'Bavarian beer' is protected at the DPMA as a geographical indication of origin (312012000102.4) and can therefore be marketed as a regional speciality, similar to Parma ham or champagne.
Who can take the most?
Despite lower thirst, Germans still drink more beer than the rest of the world, about 104 litres per capita per year. Only the Czechs can do more: with an average of 143 litres of beer, they are almost 40 litres ahead of the Germans and thus alone at the top worldwide.
But Germany - and Bavaria in particular - is at the top in terms of diversity: there are supposed to be up to 6,000 different German beer varieties - and the trend is rising sharply. That means you could try a different German beer every day for 16 years. If you search in the DPMA register for all trade marks in the 'beer' section, you will get 47373 results! Many beer brands have expired (such as the 'Münchner Schlossbräu'), but new brands are constantly being added.
Almost 1500 breweries in Germany!
In 2017, 1,492 breweries in Germany produced around 85 million hectoliters of beer. According to Destatis, 642 breweries, or 43% of them, were located in Bavaria, where, with around 24 million hectolitres, the largest proportion of beer was brewed in a state comparison. The smallest breweries with annual production of less than 1,000 hectolitres are developing particularly dynamically. In 2017, the 824 small and smallest breweries accounted for more than half of all breweries in Germany; their number alone has increased by 85 compared to 2016.
The worldwide trend towards 'craft beer' and 'micro breweries' is benefiting many small traditional companies. By the way, the hop growers, too: As heavily hopped beers (e.g. 'Imperial Pale Ale') are becoming more and more fashionable, the demand for the plant continues to rise.
This briefing is for general information purposes only and should not be used as a substitute for legal advice relating to your particular circumstances. We can discuss specific issues and facts on an individual basis. Please note that the law may have changed since the day this was first published in August 2018.