Thu 10th Dec 2020
Do I need an attorney for my UK patent application?
The advice of the UK government on its website is as follows:

"We strongly recommend you seek legal advice before applying for a patent, as it can be a complex and costly process".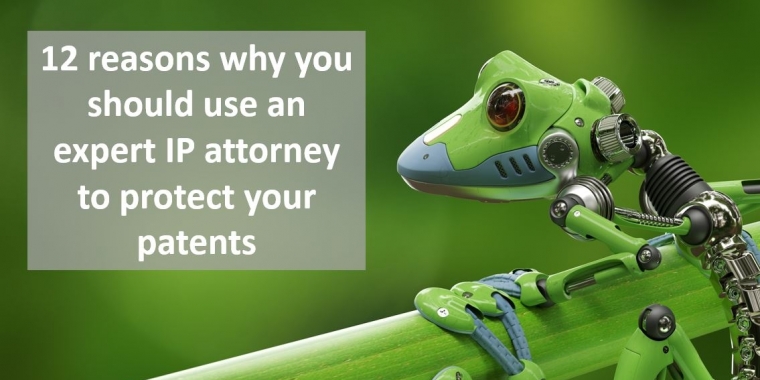 Partner and intellectual property expert David Roberts shares 12 reasons why using a patent attorney is essential to secure the most effective intellectual property protection:
Intellectual property is a complex and far-reaching area of legislation, with a large amount of case law, directives, regulations, and statutes. It is an ongoing process for professionals to keep updated on the law, which is ever-changing and often unclear.  Most business owners prefer to focus on developing their businesses, increasing turnover and leave intellectual property to their expert patent attorneys.
An effective intellectual property strategy aims to obtain patent rights that are good quality, not simply having a large quantity of rights, or getting anything granted for the sake of it. Some self-filed patents are worthless, as they are so narrow and fail to cover the full scope of your invention. A patent attorney will ensure that you obtain commercially valuable intellectual property which will lead to better IP rights for licensing, asserting against others, maintaining market share and obtaining royalties; it can therefore lead to higher income.
A patent attorney will help you avoid problems when filing applications and can structure applications so that they are less likely to run into objections and oppositions, saving you time and costs.
Your patent attorney will help you to avoid infringing someone else's intellectual property by carrying out searches to reduce the risk of you adopting intellectual property that conflicts with the rights of others, and avoiding damages claims.
There is a greater success rate with intellectual property prepared by a professional. Of patents that are self-filed without professional advice, it is believed that only around 5% reach grant. 
Having an attorney is a deterrent to objections from others, who when deciding whether to object to an application will take note of the experience of the applicant.
Your IP attorney will assist with obtaining patent protection overseas. Knowing the various international protocols, they will advise on where, when, and how to file most cost effectively.
Our patent attorneys will help you avoid wasting money on government fees for applications that have little chance of success, help you resolve objections from other parties, help you resolve enforcement actions cost-effectively and, at the same time, seek good quality rights.
From our years of experience, you can benefit from our tricks of the trade, which can help you with issues of priority, regional rights, and other aspects that can also help save you money or postpone expenditure.
In many instances, you cannot rectify mistakes after filing an application, and your information will then be in the public domain. You may find that, having made a disclosure it is too late to resolve matters or that, in the time period since you filed others have filed in a way that impedes your use and future applications.
Confidentiality is of paramount importance when protecting the value of your innovation. Any correspondence with your patent attorney is privileged and does not amount to a disclosure for patent purposes.  You may be tempted to ask for advice if filing yourself and risk disclosing important information.
A specialist firm, such as Page White and Farrer is regulated by the Chartered Institute of Patent Attorneys, which ensures that we adhere to a strict code of conduct which always puts your interests first.
If you are considering filing a UK patent application for the first time, you will stand the best chance of success in the hands of a professionally qualified and experienced patent attorney.
Our attorneys are all experts in their particular technical field, from AI to aerospace and from blood products to clean energy.
Free initial consultation
Our patent attorneys can provide a free initial consultation of up to 30 minutes for anyone who is interested in using our services to protect their intellectual property. During the consultation, we can discuss your objectives and the approach that we would take to protecting the intellectual property in your business.
Click here to request a free initial consultation with one of our intellectual property experts.
This briefing is for general information purposes only and should not be used as a substitute for legal advice relating to your particular circumstances. We can discuss specific issues and facts on an individual basis. Please note that the law may have changed since the day this was first published in December 2020.