Mon 7th Dec 2020
Nine benefits of IP licensing for the licensee
If you have established some strong marketing channels, with an extensive database, good customer knowledge and a productive sales engine, you may be on the lookout for new products which might compliment your existing portfolio.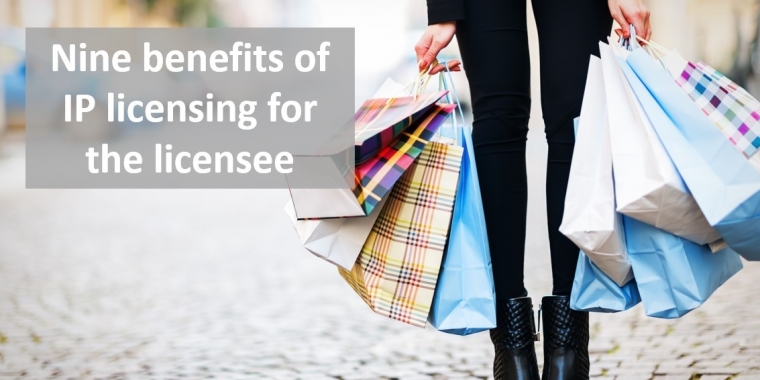 If customers are already on your website or social media accounts, already reading your emailer, or happy to meet your sales team then it is comparatively easy to introduce them to other products.  The tricker bit is finding or developing those new products.  Doing this from scratch takes time, and you have all the costs, trials and tribulations of research and development.
Agreeing to pay a fee to another company to license something which they have already developed will save you this cost and effort.
The arrangement is attractive to the licensor too - see our article on Nine key benefits of licensing intellectual property for the licensor – as they will benefit from your market knowledge and access to your customer base.
The benefits to the licensee are summarised as follows:
Saving money – you will save on all the costs of research and development, such as market research, building prototypes, consumer or usability testing, and potentially regulatory approval in certain markets.
Benefit from the technical expertise – the product developer will have in-depth expertise in the particular product or service which you are licensing, whereas you will need broader knowledge across your whole product range. They will also have experience from licensing in other markets which may be helpful.
Profit from their mistakes – having already taken their product to market, they will have had to iron out all the teething problems, and while geographic differences might need to be addressed, you will be licensing something which is market-ready.
Increase your income – by extending the range of products which you sell and potentially the value of products where you are able to license premium brands.
Expand your product range – by working with a licensor who has established a successful product or service in their home territory, you can quickly add their products or services to your portfolio without having to employ additional staff.
Outpace your competitors – by focusing on finding the best licensing partner(s), rather than investing time and energy in research and development, you will be able to bring products to market quicker, potentially a step ahead of your competitors.
Improve quality control – the best licensing partners will insist on good systems for quality control, customer relations and reporting, and by striving to meet higher standards your whole business will benefit.
Enhance your reputation – by aligning your business with strong, respected, and established brands (who are choosy about their licensing partners) your own reputation will benefit.
Establish a long term synergy – in the best licensing arrangements, you will be able to share intelligence with your licensor and spot new opportunities together for new products or new markets,
For more information on the benefits of licensing intellectual property for your business, please contact our attorneys via our contact form.
This briefing is for general information purposes only and should not be used as a substitute for legal advice relating to your particular circumstances. We can discuss specific issues and facts on an individual basis. Please note that the law may have changed since the day this was first published in December 2020.