Fri 4th Dec 2020
EU Unified Patent Court one step closer after German ratification
At the end of November, the German Bundestag voted through the draft ratification bill which includes consent to the Agreement on a Unified Patent Court (UPCA).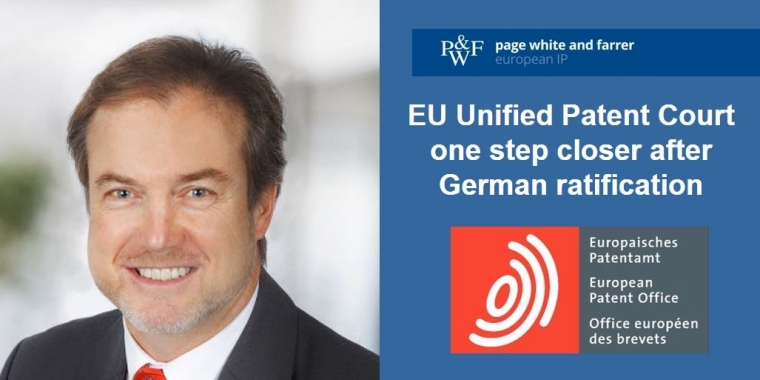 European Patent Office (EPO) President António Campinos welcomed the news as it brings the much-anticipated implementation of the Unitary Patent package one step closer, explaining that "Once that happens, European inventors will finally be able benefit from the Unitary Patent, giving them uniform patent protection and, what's more, a unified system for litigation in all participating EU member states." 
According to a press release from the EPO, the UPC bill will now be submitted to the German upper house (Bundesrat) for approval shortly. Once the German ratification procedure is complete, it is anticipated that the final preparatory steps could be taken to set up the Unitary Patent Court in 2021. The UPC could then start its work in 2022.  
According to Olaf Ungerer, Partner and European Patent Attorney with page White and Farrer in Munich. "This is an important step forward.  The aim of the Unitary Patent and the Unified Patent Court is to supplement and strengthen the existing central European patent granting system to offer users a cost-effective option for patent protection and dispute settlement across Europe." 
It will be possible to get a unitary patent protection in a number of EU Member States by submitting a single request to the EPO, making the procedure simpler and more cost effective for applicants.  
The Unified Patent Court will be an international court able to give a single decision on infringement and/or validity, applying to all UPC member states, potentially reducing litigation costs.  
A number of member states which belong to the EPC will not be party to the UPC either because they are not part of the EU or because they have not ratified the agreement. The UK will not be part of the Unified Patent Court package. 
For advice on the implications of the UPC, email Olaf Ungerer or contact us via our website enquiry form. 
This briefing is for general information purposes only and should not be used as a substitute for legal advice relating to your particular circumstances. We can discuss specific issues and facts on an individual basis. Please note that the law may have changed since the day this was first published in December 2020.