Tue 27th Aug 2019
German Federal Court of Justice clarified responsibilities for divisional patent applications
In a new decision X ZB 9/18 ("Abstandsberechnungsverfahren") of 7 May 2019 the German Federal Court of Justice (Bundesgerichtshof or BGH) has clarified the responsibilities of each of the German patent authorities for receiving and examining divisional applications at different procedural stages.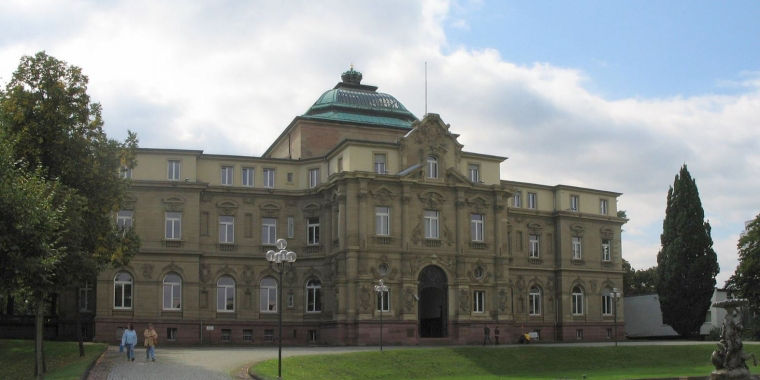 Olaf Ungerer, a partner in our Munich office explains that 'This new ruling is very important in terms of validity and available instances of a divisional application.'
The key points of the decision are as follows:
(a) The applicant may still divide the application during pendency of an appeal on a point of law against the rejection of his appeal (abandonment of BGH, decision of 6 September 1979 – X ZB 10/78, GRUR 1980, 104 – Kupplungsgewinde).
(b) The division of an application is to be declared towards the Patent Court, where the examination of the divisional application becomes due as soon as the applicant has filed an appeal against the rejection of the (parent) application and the appeal procedure has become pending at the Patent Court. However, if the applicant declares the division of the application after the Patent Court has rejected the appeal, the declaration of division is to be made towards the Patent Office, to which the responsibility for substantial examination of the divisional application falls back as well.
It may therefore be advisable to file a divisional application after the date of decision about the appeal (date of the announcement of the decision in an oral hearing or date of the decision in a written procedure) and, if no appeal on a point of law is filed, before the expiry of the term for filing the appeal on a point of law (1 month after notification of the decision of the German Patent Court (GPC)). Thereby, the divisional application will be examined by the German Patent and Trademark Office (GPTO) with the option of a later appeal to the Patent Court and not directly by the Patent Court.
Moreover, to meet any deadlines, it is important to file the divisional application at the correct authority. If not, the non-responsible authority will forward the documents to the responsible authority, but the filing date is determined by the receiving date at the correct authority. The forwarding can take up several days or even weeks so that there is a high risk that the deadline for the divisional is missed (if no appeal has been filed).
To summarize, the following responsibilities for filing/examination of a divisional application during different procedural stages of a patent application can be identified: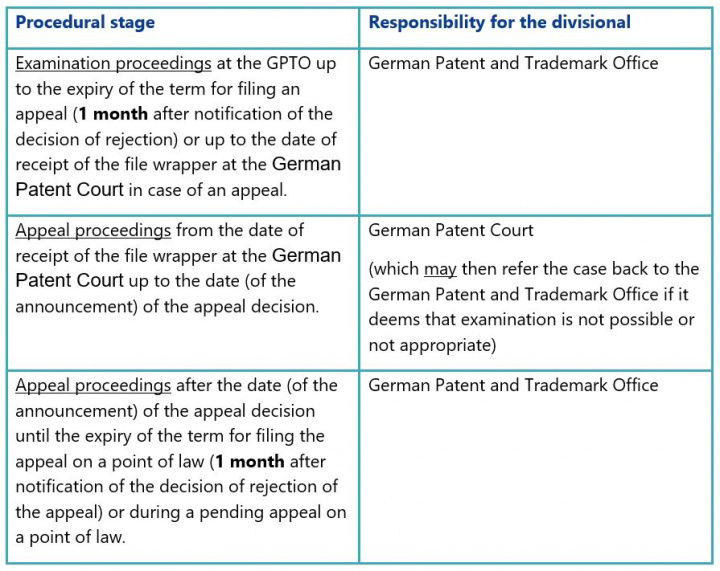 This briefing is for general information purposes only and should not be used as a substitute for legal advice relating to your particular circumstances. We can discuss specific issues and facts on an individual basis. Please note that the law may have changed since the day this was first published in August 2019.