Wed 20th Jan 2021
How not to register trade marks in the UK fashion industry
The UK fashion industry is worth £26 billion, employs over half a million people, and is constantly and rapidly innovating as, every season, exciting new brands and products are launched.
Devising an exciting brand and protecting this from unscrupulous competitors is key to launching a successful new fashion product range and part of this may include applying to register a trade mark, or a number of trade marks in the UK and overseas.
'Unfortunately (despite information to the contrary on the internet) it is easy to make a mistake when attempting to obtain a trade mark registration, regardless of whether you are startup, or an established business,' says trade mark expert James Cornish.
'If you find that you have been working on and investing in a brand which has already been registered by a competitor, then you could face the unenviable task and the unwelcome costs of rebranding.'
Having worked with numerous companies in the fashion sector for more than 20 years, James has produced a handy 'IP masterclass' presentation highlighting common mistakes which are often made by designers and product managers who do not fully understand the intellectual property system.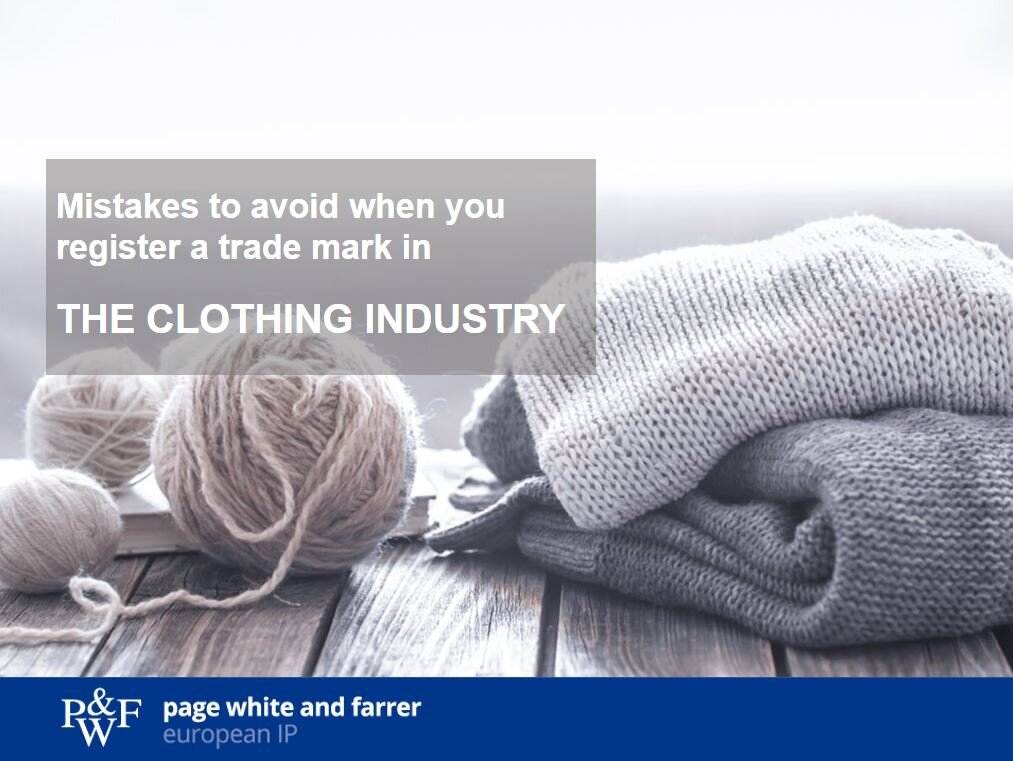 This helpful PowerPoint presentation covers mistakes relating to:
brand names;
word marks;
logos; and
choice of category.
Spending time investing in a fashion brand which cannot be protected by a trade mark registration can be a waste of resources, so it is always a good idea to speak to a trade mark attorney early on.
Check with a trade mark attorney first
Page White Farrer offer a free initial consultation of up to 30 minutes for any new enquirer who is interested in using our services to protect their intellectual property.
Click here for information on our free IP clinic.
For advice on brand protection and trade marks in the UK, Europe and internationally, please contact James Cornish on 44 (0) 207 831 7929 or email james.cornish@pagewhite.com.
This briefing is for general information purposes only and should not be used as a substitute for legal advice relating to your particular circumstances. We can discuss specific issues and facts on an individual basis. Please note that the law may have changed since the day this was first published in January 2021.