Thu 31st Dec 2020
Virginia Driver and Tom Woodhouse contribute to IP chapter of book on 'The Law of Artificial Intelligence'
Page White Farrer is delighted that two of its expert patent attorneys, Virginia Driver and Tom Woodhouse, have contributed to a book on artificial intelligence and the law around this, with a chapter delivering insights on intellectual property.
"We were delighted to contribute to this important text, which will be invaluable in this fast-paced arena," said Virginia Driver who has been advising on computer software for more than twenty years and has previously advised the European Commission on the debate over copyright versus patents for software cases.
Tom Woodhouse, who advises entrepreneurs on IP protection for artificial intelligence and big data for a number of years commented that "It has been a wonderful opportunity to work alongside distinguished experts including Adrian Weller of the Alan Turing Institute.'
The Law of Artificial Intelligence was edited by Matt Hervey (Gowling LLP) and Matthew Lavy (4 Pump Court) and was published by Sweet and Maxwell on 31 December 2020.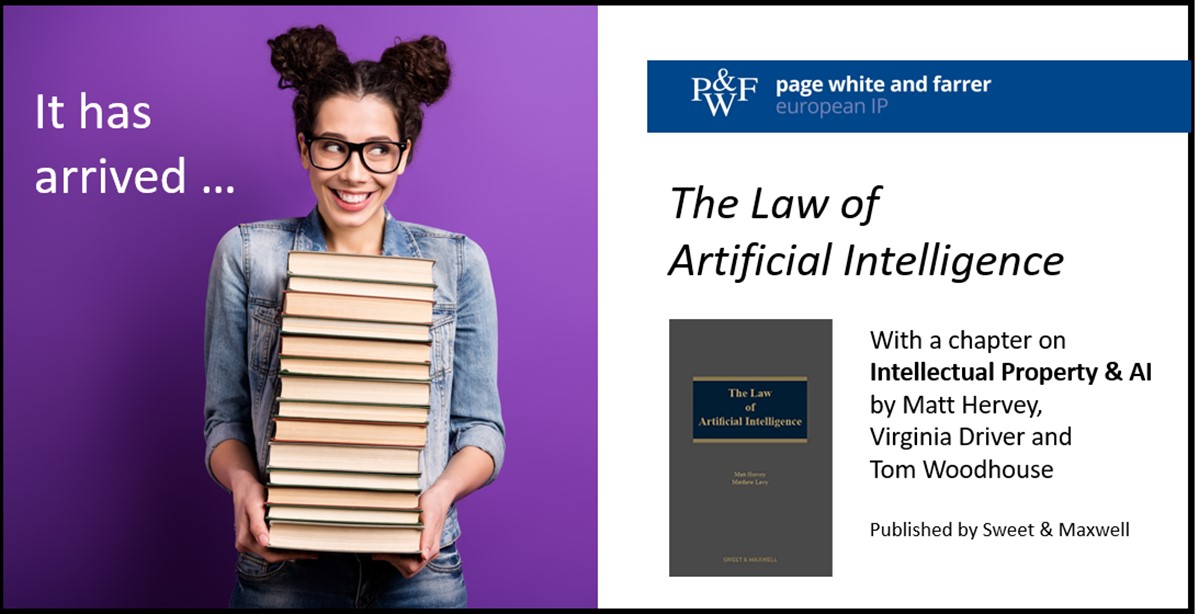 The book, entitled The Law of Artificial Intelligence, explores how key areas of current civil and criminal law will apply to AI and examines emerging laws specific to the use of AI.
Topics covered include:
law, ethics and AI;
international regulation of AI;
AI and professional liability;
AI in the justice system; and
AI in the legal profession.
The chapter on intellectual property covers:
patentability of AI, AI-devised or AI-assisted inventions;
inventiveness in using AI;
sufficiency and plausibility;
copyright and weaknesses in protection;
data and database rights;
design rights – registered and unregistered;
trade marks;
trade secrets and confidential information; and
infringement of intellectual property.
Click here to order a copy of The Law of Artificial Intelligence.
This briefing is for general information purposes only and should not be used as a substitute for legal advice relating to your particular circumstances. We can discuss specific issues and facts on an individual basis. Please note that the law may have changed since the day this was first published in December 2020.