Thu 19th Nov 2020
Introduction to cloned UK registered designs for EU registered designs rights holders
Services: Design rights, IP portfolio management, IP strategy, Start up or scale up
Sectors: AI and data science, Brand owners, Chemistry, Cleantech and renewables, Electronics and telecoms, Fashion, Food and drink, Life sciences and health, Materials science, Mechanical engineering, Software patents
For EU design registrations which are registered and published by the end of 2020, an equivalent "cloned" UK registered design will be automatically created at no cost to the EU registered design rights holder.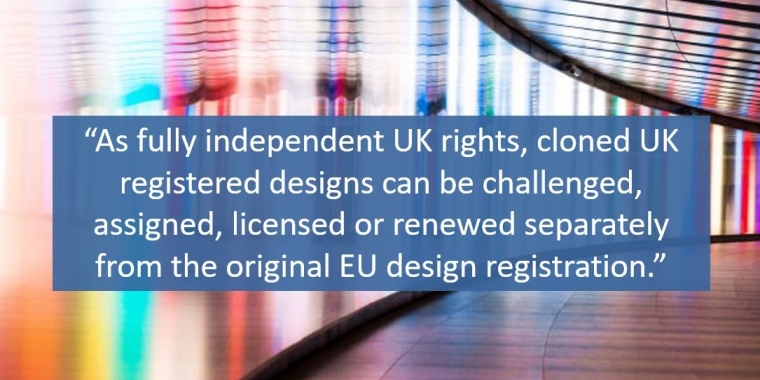 These UK re-registered designs will be treated as if they had been applied for and registered under UK law.  They will have the same registration and application dates as the corresponding EU registered design.
According to partner and design attorney David Roberts:
"As fully independent UK rights, cloned UK registered designs can be challenged, assigned, licensed or renewed separately from the original EU design registration."
How can you obtain a cloned UK registered design?
This will depend upon where you are in the registration process:
EU designs which are already registered and published by 31 December 2020 will automatically and immediately be recorded as UK re-registered designs on 1 January 2021. Therefore, at the moment, nothing needs to be done to obtain a UK re-registered design for EU registered designs which are already registered and published by 31 December 2020.
EU design applications which are pending on 1 January 2021 will be provided with a 9-month period (up until 30 September 2021) to apply for a corresponding UK registered design. The standard UK design fee structure will apply however, so this will be at a cost.
For EU designs filed after 1 January 2021 it will not be possible to obtain a corresponding UK re-registered design. To obtain UK protection a separate UK registered design will have to be filed at extra cost.
Renewal of a UK re-registered design?
In order to avoid loss of any IP rights, it will be important to ensure that renewals of both your EU registered design and its new corresponding cloned UK registered design are managed after Brexit.  Page White and Farrer provide a renewal service which can help manage and track these new deadlines post-Brexit.
How we can help
If you are interested in obtaining or renewing UK design right protection, we suggest that you call your usual contact at Page White and Farrer or contact one of the authors of this article as soon as possible.
This briefing is for general information purposes only and should not be used as a substitute for legal advice relating to your particular circumstances. We can discuss specific issues and facts on an individual basis. Please note that the law may have changed since the day this was first published in November 2020.