Mon 19th Dec 2022
Season's Greetings & Frohe Festtage from Page White Farrer
Season's Greetings from the team at Page White Farrer. Our offices will be closed on the following days over the holiday period: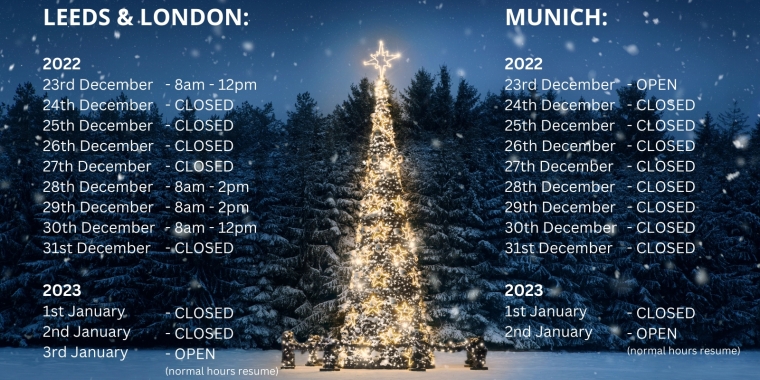 London & Leeds
Please note that 26th and 27th December 2022, and 2nd January 2023 are public holidays in the UK and our UK offices are closed on these days.
Our UK offices will also close early at 12pm on 23rd and 30th December 2022 and 2pm on 28th and 29th December 2022.
Munich
The office will be closed from 26th December 2022 to 30th December 2022 inclusive.
EPO and EUIPO
Please note that the EPO and EUIPO are closed from 24th December 2022 to 1st January 2023 inclusive.
2nd January 2023 is a working day for the EPO and the EUIPO. If you require any urgent assistance on 2nd January for an EPO or EUIPO matter, please contact our Munich office munich@pagewhite.com.