Fri 10th Jul 2020
Startup slip up #2 - Failing to check potential brand names with a trade mark attorney
Great business ideas usually start off with a working title, as entrepreneurs focus on product development, designs, packaging logistics and business plans.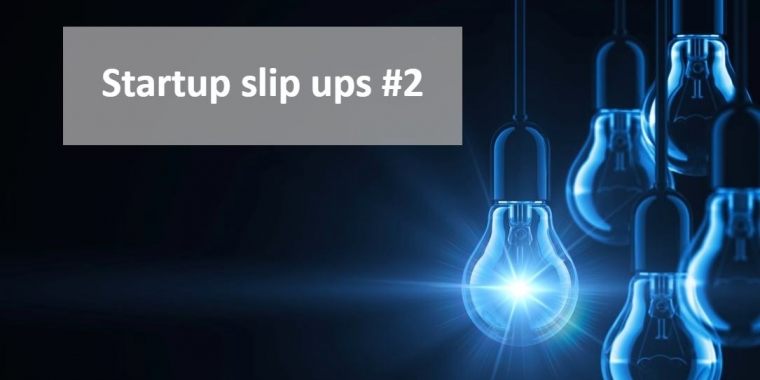 Sometimes this working title can morph into the name that you start using externally in market research, with suppliers, or potential investors.  And then, because it is available, someone in the business acquires the domain name and the company secretary registers the company name at Companies House.  The branding issues are ticked off the list, without anyone thinking to check with a trade mark attorney, if it has already been registered as a trade mark by someone else.
Intellectual property expert James Cornish warns startup entrepreneurs to beware of falling into this trap. 'Everyone on the team becomes so familiar with the working title, and it is easy to make the mistake of thinking the brand has been protected by registering the company and domain names.'
It would come as a big shock to receive a letter from another organisation saying that you have no right to trade using that brand, because it has already been registered for use in the same sector.  The prospect of going 'back to the drawing board' with brand development, the ensuing costs and added delay in getting a product to market can create huge problems for an embryonic business.
Unfortunately, having a name at Companies House and a domain name registration is not sufficient to protect your brand and gives you no rights to assert against the use and registration of similar brands by others for similar products, or services. 
Having helped numerous companies to develop new brands, in markets as diverse as fashion and financial services, James advises entrepreneurs to speak to a trade mark attorney as soon as you have a list of potential brand names.  A trade mark search may well eliminate some, or all of the names on your list, if they have already been registered by other companies.
Even if you are launching in the UK only, it is important to think about whether you may wish to do business internationally in the future, as a trade mark which is available in the UK might not be available in other countries.
Intellectual property protection and exploitation is important to the long-term success of your business – and a trade mark registration is the best way to protect the intellectual property rights in your brand.
Free IP clinic for UK startups
We offer a free initial consultation of up to 30 minutes for any startup which is interested in using our services to protect their intellectual property. A discussion can be arranged by telephone, or at our office in London.
During the consultation, we can discuss your objectives and the approach that we would take to protecting your brand. We provide an outline of the costs and procedures required to obtain protection, and we will suggest the next steps that need to be taken.
Click here to request a free 30 minute consultation, or contact James Cornish at james.cornish@pagewhite.com or on 020 7831 7929.
This briefing is for general information purposes only and should not be used as a substitute for legal advice relating to your particular circumstances. We can discuss specific issues and facts on an individual basis. Please note that the law may have changed since the day this was first published in July 2020.