Fri 17th Jul 2020
Philanthropists, not-for-profits and startups need to guard IP in Covid-19 solutions
By 17 June 2020, according to Center for Disaster Philanthropy (CDP), some $11.4 billion had been donated to help tackle the COVID-19 outbreak.

Large donations have been made by some of the world's leading companies and foundations, and universities are racing to develop a vaccine.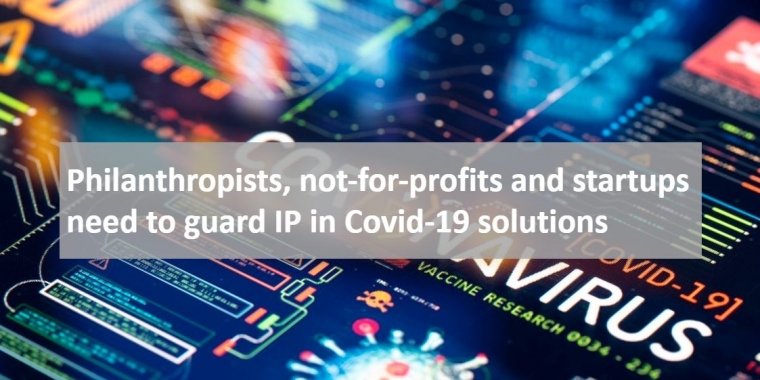 In their latest white paper, intellectual property strategists Virginia Driver and Tom Woodhouse have urged philanthropists, not-for-profits and startups to tread carefully and protect their IP in the race for Covid-19 solutions.
When world leaders met for the annual World Health Assembly on 18 May 2020, more than 140 prominent figures, including current and former world leaders, had signed an open letter calling on governments to unite behind a people's vaccine against COVID-19.   Among other things, this called for any vaccine to be "patent-free".
The UK Government's policy paper on scaling up the coronavirus testing programmes on 6 April 2020 also called for solutions to "be as open source as possible with the ability for components, consumables, chemicals and digital components to be produced by a range of manufacturers – quickly and easily."
Virginia Driver and Tom Woodhouse argue that, contrary to popular opinion, "open source" does not mean "patent-free" and suggest how patents and intellectual property could be powerful weapons against President Trump – in an open source model that makes any vaccine available globally on ethical terms that are legally enforceable.
They urge philanthropists, not-for-profits and startups to ask these key questions:
Are you giving away your IP?
If so, what right of control are you retaining as inventor or author?
Are you thinking of the implications for your business beyond this crisis?
Click here to download the white paper: Philanthropists, not-for-profits and startups need to guard IP in Covid-19 solutions.
This briefing is for general information purposes only and should not be used as a substitute for legal advice relating to your particular circumstances. We can discuss specific issues and facts on an individual basis. Please note that the law may have changed since the day this was first published in July 2020.