Thu 28th Jul 2022
Blockchain leader nChain forges ahead in patent rankings
Global blockchain technology company nChain has leapfrogged over the likes of tech giant IBM and Alipay (Alibaba's mobile payment platform) to take fifth place in the league table of companies ranked worldwide for blockchain patent applications in 2021 with the help of Page White Farrer*.
As the leader in Europe and recently voted one of the Top 100 most innovative firms in the world, the development of its patent portfolio is at the heart of nChain's strategy to deliver value.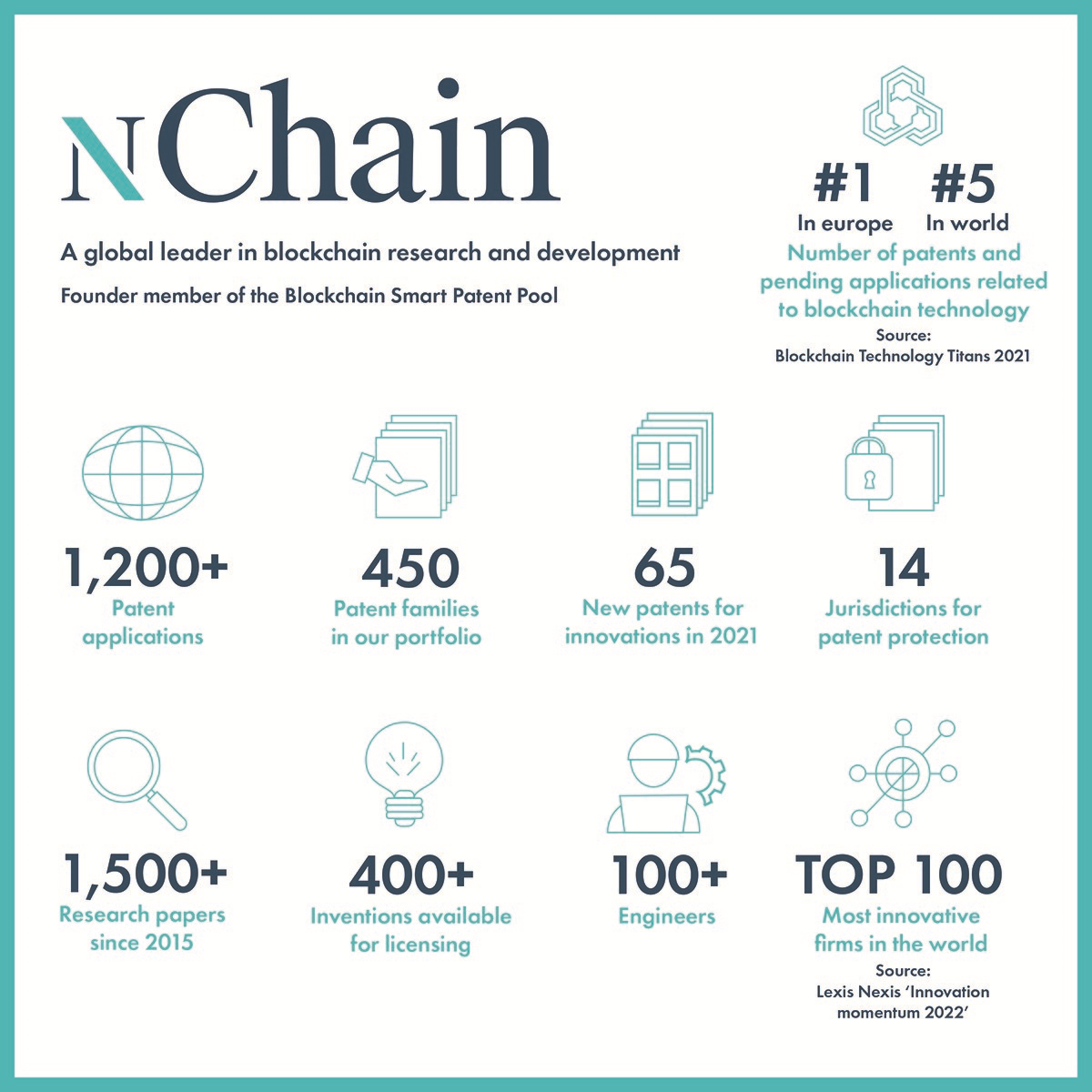 Blockchain solutions ensure data cannot be tampered with, enhancing protection and integrity. The potential uses are myriad, and blockchain has the power to disrupt many sectors.
nChain's objective is to research and identify problems where blockchain offers a tamper-proof data solution. Advantages include automated data verification, decreased costs, mitigation of risks, increased efficiency, and opening up of new revenue opportunities – where the innovation value is underpinned by comprehensive patent protection.
Some practical examples of solutions developed by nChain include:
securing IoT communication and streamlining the exchange of digital assets on a global scale;
developing a digital form of central bank money to complement existing notes and coins;
reducing the risks associated with anomalous or erroneous data, by verifying and certifying to and from the blockchain; and
addressing the Responsible Gaming & Anti-Money Laundering (AML) challenges in online gaming.
Founded in 2015, nChain operates from four locations in the UK, Slovenia, and Switzerland, employing over 100 engineers.
The company is prolific in its output of research – producing over 1,500 papers, covering blockchain infrastructure, blockchain applications, cryptography, key management, network theory, macroeconomics, and other disciplines.
Once an innovative solution has been identified, it moves from the research team into engineering where the solution is brought to fruition.  nChain now has a portfolio of over 1,200 patent applications (July 2022) within 450 patent families, and patent protection across 14 IP jurisdictions.
The company advertises 'over 400 inventions available for licencing' that cover a wide range of blockchain and non-blockchain applications.
Working with Page White Farrer
The company was introduced to Page White Farrer in 2019 by a new in-house lawyer who had worked with partner Martyn Townsend previously at a leading electronics company, and recommended the new team of patent attorneys on the basis of their technical skills and their ability to embrace new technology quickly.
The sheer volume of innovative ideas emanating from the research team led to a proposed secondment and Thomas Mahon moved across to nChain's operation in London for six months, remaining as key contact when he returned to Page White Farrer.
One of Tom's practical contributions was the instigation of a monthly Patent Review Committee comprising participants from the four core teams: research, engineering, business and legal.
The committee provides an opportunity to hear about new developments and to discuss recent or proposed patent applications, reviewing them against a balanced scorecard before planning the territorial strategy and budget for international patent reach.  Each innovation is evaluated in regard to, amongst other aspects, its patentability, ease of detection, commercial potential and even its PR value.
Owen Vaughan, Director of Research at nChain describes Tom as 'still part of the team' and comments:
"We live and breathe patents and measure our success in our patents. Tom, who has led our IP programme since 2019, is an exceptional patent attorney.
Page White Farrer know us well. We find them to be very responsive – we never need to ask twice. They grasp things very quickly, listen and adapt, and really contribute to our ethos of continuous improvement."
Building patents (and a pool) to build business value
nChain was founded to create intellectual property, so its patent portfolio is a central element of its brand – tangible evidence of protected value (in a realm of intangibles) for investors, customers, and employees.
The firm shouts loudly about the scale of its patenting and not surprisingly nChain was voted one of the Top 100 most innovative firms in the world by Lexis Nexis in 2022.
Working collaboratively across the tech space, nChain also aims to simplify access to the blockchain via a patent pool, enabling licensees and customers to leverage data to its fullest.
nChain has also joined forces with IPwe (an IP platform that enables both large enterprises and SMEs to access patents in their technology sector) as founders of the Blockchain Smart Pool (see here for an explanation of how patent pools operate).  This is a mechanism to provide established businesses and entrepreneurs with an accessible path to build blockchain-based solutions through a robust portfolio of patents. 
nChain started the pool with over 1,250 patents and patent applications in 2022 and it has already attracted 130 companies, eager to develop their own technology on the blockchain, licensing and utilising their patents.
---
* With 1196 active patents and pending applications, nChain sits behind Alibaba (2588), Ping (2075), Advanced New Technologies (1914) and Tencent (1703) – Source: The Blockchain Technology Titans 2021 Report.