Tue 20th Nov 2018
Case study: Tom Woodhouse - from trainee to partner
Tom Woodhouse describes how he was supported as a graduate trainee and rapidly rose to become partner with Page White Farrer.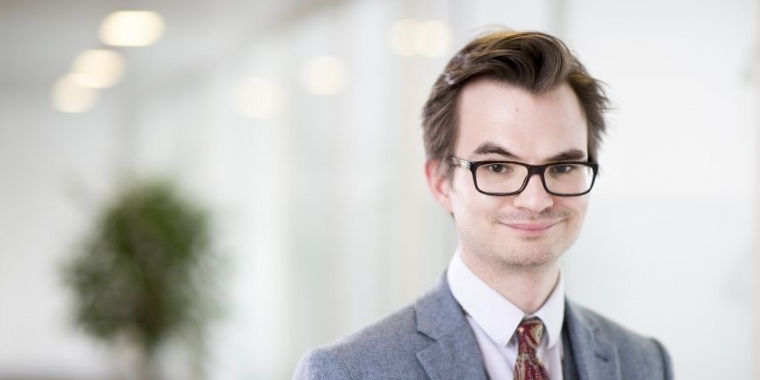 Name: Tom Woodhouse
Location: London
Universities: Oxford and Queen Mary's University London
Degree: MPhys Physics & MSc Computer Science
Role: Partner
Timeline
2011 - Joined Page White Farrer as a graduate
2012 - Started studies at Queen Mary University of London
2014 - Qualified as a UK patent attorney
2016 - Qualified as a European patent attorney
2017 - Became a partner
2018 - Qualified as a Higher Courts Patent Litigator and became director
Tom joined Page White Farrer in late 2011 straight out of university. A few months later, he was asked, as a fresh-faced trainee, to give his perspective on the firm and life as trainee patent attorney. For those who may be considering a career in IP today, this was Tom's take back when he has just embarked on his:
'Having decided against pursuing academia, by the time graduation came around I had nevertheless given scant thought to the future and knew next to nothing about the patent profession when embarking on what would later turn out to be a career within it.
To my good fortune, I have found working life at Page White Farrer consistently interesting and enjoyable. The work is challenging and varied, and while support is always forthcoming, opportunities to work independently are plentiful.
I attended interviews at three patent and trademark firms in total shortly after graduation – the one at Page White Farrer was the most welcoming and engaging by some margin, and I accepted the job offer. Ultimately, I have found the firm a natural fit, and see my ending up here as a fortuitous result of blind luck and instinct.
The willingness of members of the firm at every level to set aside considerable amounts of time for one-to-one training is especially noteworthy.'
Tom's early instincts have served him well; he has stayed with us ever since, rising through the ranks to become partner in the firm in the summer of 2017. Now marginally less fresh-faced, what hasn't changed are the positive sentiments he expressed about professional life at Page White Farrer back in 2012.
As partner, his efforts are now focussed on ensuring that talented and motivated individuals joining us today have similarly positive experiences, and are given the same opportunities to progress their careers here at the firm as he had.