Fri 25th Sep 2020
Brexit and IP – Implications for trade marks and registered designs (patents not affected)
This is a brief note on the position concerning how EU-wide trade marks and EU-wide registered designs will be affected by Brexit from 1 January 2021. The advice below is applicable to trade marks and designs equally.

Please note the European Patent Office is not an EU institution and European patents and patent applications are not affected by Brexit.

This is a very important notice for the owners of EU-wide trade marks and designs. Please contact us if you have any questions.
Conversion of EU trade marks and designs into separate UK and EU trade marks and designs 
On 31 December 2020, EU registrations will automatically be split, and owners will be given a UK registration alongside their EU-wide registration. 
The UK IPO will not send rights' owners individual lists of the new UK trade marks or designs that they own.  There will be no certificates issued in electronic, or paper form.  The UK IPO will publish a general notice on its website in around December 2020 telling the owners of EU rights that they now own a comparable UK trade mark or design.  Details of the new UK trade marks or designs will appear on the UK IPO database and can be obtained from that database, if needed. 

Going forwards, you will have separate UK and EU-wide rights. 
While it is possible to opt out of having the separate UK rights in certain circumstances, it is unlikely that many owners will opt out of getting the UK rights.  Owners can allow their UK rights to expire by non-renewal in due course.
Renewal of EU trade marks and designs
The UK renewal date will be the same as the corresponding renewal date of the EU registration. 
UK rights arising from the EU rights on 31 December 2020 will be renewable on payment of an additional fee to the UK IPO.  You cannot avoid this payment by renewing the EU registration before the Brexit date.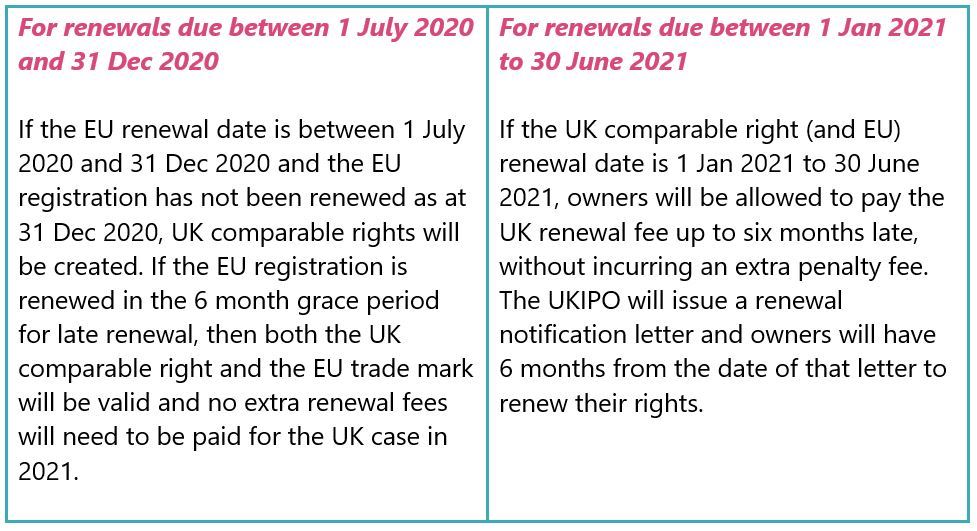 If you already have an existing (eg earlier) UK registration for the same rights alongside your EU registration, you may wish to consider carefully whether you need to renew the converted cloned UK case alongside your separate UK registration.  Please check with us to ensure you do not duplicate UK national rights. 
Pending applications for EU trade marks and designs
Owners of pending EU applications on 31 December 2020 will have 9 months to apply for a new UK trade mark or design application with the same filing details as the pending EU application for a fee.  We will assess what cases are still pending on 31 December 2020 and contact you if applicable.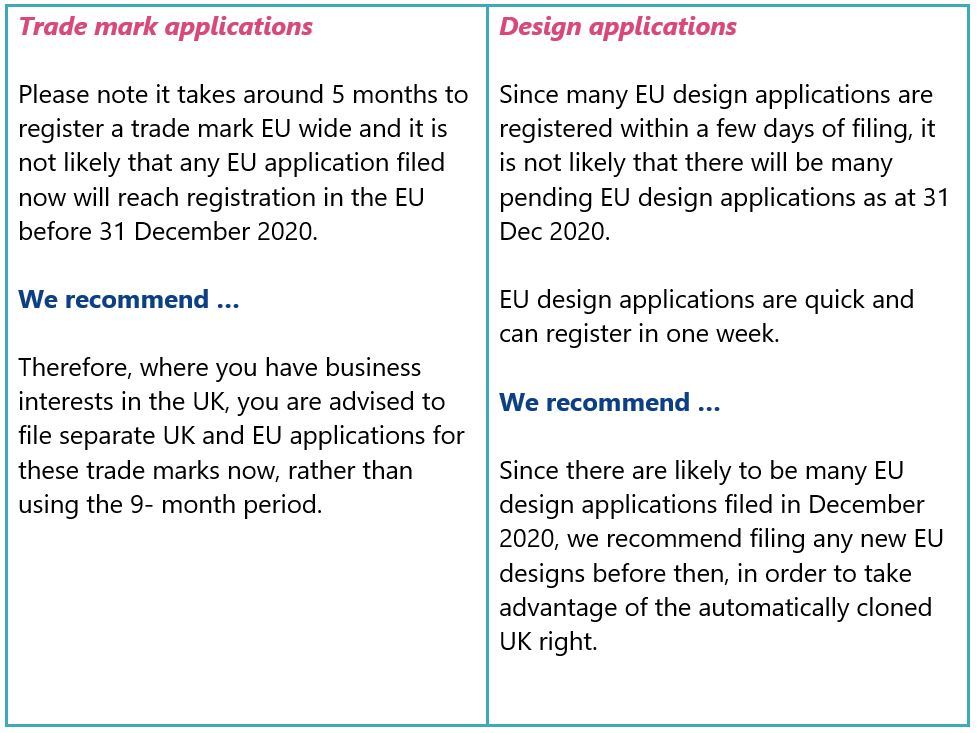 How we can help …
Page White and Farrer has offices in Munich, London and Leeds and a team of European, German, Finnish, French and UK qualified patent, trade mark and design attorneys.
We provide a comprehensive, one stop shop for all European intellectual property.  In particular, we can handle the registration of the same trade mark in the UK IPO and EU IPO at the same time, using the same experienced team of personnel. 
In the meantime, do not hesitate to contact James Cornish, Taryn Byrne or Oliver Spies (trade marks), David Roberts (designs) or your usual contact at our firm if you have any questions concerning the impact of Brexit.
This briefing is for general information purposes only and should not be used as a substitute for legal advice relating to your particular circumstances. We can discuss specific issues and facts on an individual basis. Please note that the law may have changed since the day this was first published in September 2020.