Fri 16th Sep 2022
EPC update: Montenegro to become 39th member of EPO on 1 October 2022
We have updated our useful map showing the options for registering a patent across 44 European states under the European Patent Convention as the European Patent Organisation welcomes Montenegro to its growing number of member states from 1 October 2022.
Click here to read the full news release from the EPO.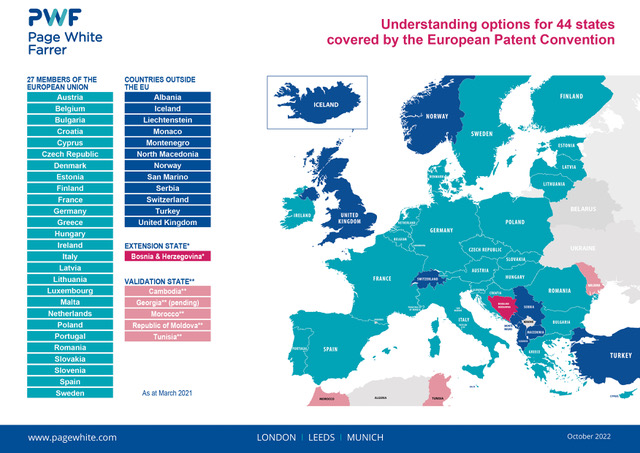 What is the EPO?
The European Patent Office examines European patent applications, enabling inventors, researchers and companies from around the world to obtain protection for their inventions in up to 44 countries through a centralised and uniform procedure that requires just one application.
Over the past 45 years, the EPO has increased the number of members from only seven founding states in 1977 to 39 member states as of 1 October 2022. The EPO highlights how this growth is "a success story of international co-operation and European integration, by helping steer innovation and economic growth."
Which countries are members of the EPO?
If you are planning international expansion in Europe, then you will need to consider how best to protect your intellectual property and where to register patents. Our useful infographic shows the options for geographic coverage across 44 European states under the European Patent Convention - as of October 2022.
How our patent attorneys can help
We offer a free initial consultation to discuss your objectives and the approach that we would take to protecting the intellectual property in Europe. Or contact Kelda Style on 020 7831 7929 or email kelda.style@pagewhite.com.
This briefing is for general information purposes only and should not be used as a substitute for legal advice relating to your particular circumstances. We can discuss specific issues and facts on an individual basis. Please note that the law may have changed since the day this was first published in October 2022.