Fri 11th Mar 2022
Bringing IP expertise to AI Tech North Summit in Leeds
Page White Farrer is delighted to be sponsoring the Great Northern AI Summit in Leeds, organised by AI Tech North 17-18 March 2022.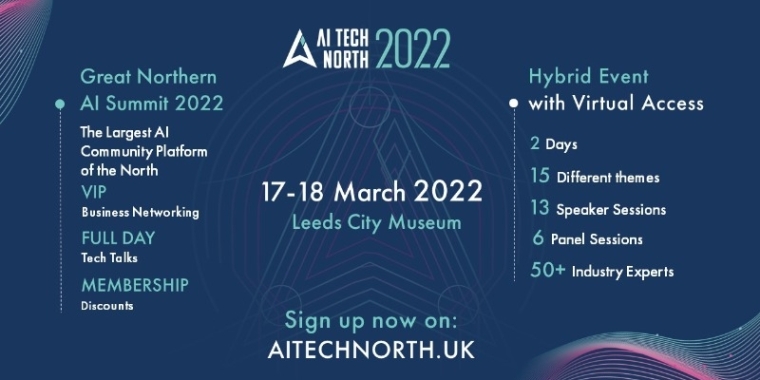 AI leaders, practitioners and enthusiasts will come together to discuss advancements in the field of artificial intelligence, data trends and innovative technologies.
Andrew McKinlay, European patent attorney at Page White Farrer will be a keynote speaker in the session on 'Applying AI and Building a Smart Future'.
Date: Thursday 17 March 2022
Time: 11:00 – 12:30
He will be presenting on 'Protecting Applied AI' alongside other experts in the field including:
Jamie Hinton, chief executive officer of Razor;
Kamran Mahroof, assistant professor in supply chain analytics at University of Bradford; and
Tim Hatton, head of insight practice at AND Digital.
Partner and European patent attorney Virginia Driver will also be taking part in the summit joining the panel on 'AI Start-Up Success Stories', bringing her wealth of expertise in protecting intellectual property for startups in the realm of artificial intelligence. In 2020, Virginia contributed to the intellectual property chapter of The Law of Artificial Intelligence, published by Sweet and Maxwell and available to order here.
Date: Friday 18 March 2022
Time: 15:00 – 16:00
Revannth Murugesan, chief executive officer of Antonym will be chairing the panel session and the other panellists joining Virginia are:
Sam Beni, applied AI lead at Tech Nation;
Paul Hallett, co-founder of Vet AI;
Saile Villegas, director and co-founder of Seeai; and
Vee Mapunde, programme director at NIHR Surgical MedTech Co-operative.
The questions Virginia will be answering are:
When considering AI for use in a medical setting, what factors contribute to an AI success story?
What are some of the key considerations for AI as a medical device?
Is there a roadmap or pathway to success that AI companies and start-ups can access?
Do you believe that having a clear framework for protecting your innovation can contribute to company success?
Have potential investors asked to see what your process is for capturing and protecting innovation?
How can you optimize your position when facing larger customers/ collaborators?
What role does diversity (e.g., diversity in data, teams) play in having a successful AI?
How do regulations impact the process of building / implementing AI technologies?
Other topics to be covered over the course of the summit include:
diversity and inclusivity in AI tech;
AI in fin tech;
how to build AI solutions;
AI in health tech;
a deep dive into machine learning;
AI ethics;
implementing real data and AI projects; and
AI strategy.
Page White Farrer will also have an exhibition stand in Leeds City Museum. You can find the patent team in the main hall at the summit - Thomas Mahon, Dominic Weston, Matthew Codd, Catriona Collerton, Lewis Inchley along with Virginia and Andy will be on hand to answer questions and advise on IP matters.
Click here to find out more about the AI Tech North Summit and book your ticket:
https://www.aitechnorth.uk/. It will be a hybrid event, available to attend both in person and online.
This briefing is for general information purposes only and should not be used as a substitute for legal advice relating to your particular circumstances. We can discuss specific issues and facts on an individual basis. Please note that the law may have changed since the day this was first published in March 2022.