Wed 17th Mar 2021
Webinar: Protecting your software - where do you start? - Tech Wednesday
On 17 March 2021, patent attorneys Virginia Driver and Tom Woodhouse presented a webinar for Bruntwood SciTech at its Tech Wednesday event, a monthly meet-up for technological and entrepreneurial communities that are part of the Bruntwood Collective.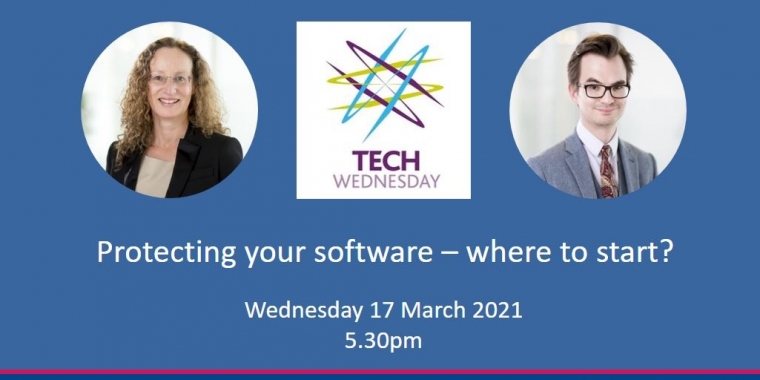 Virginia and Tom discussed how tech startups can protect their software with a strong intellectual property strategy and highlighted the key differences between confidential information, trade secrets, copyright and patents.
As many software services are delivered through a graphical user interface which has been expressly configured for usability, it reveals concepts and innovation which competitors may exploit, even where the code is inaccessible.
Therefore, relying on the concepts of copyright and trade secrets to protect software can leave serious gaps in your armour, as copyright only protects software code from being copied and not the underlying ideas.
Virginia and Tom also answered common questions startups ask about intellectual property, such as:
What can I patent?
What is a 'patentable invention'?
Can I protect artificial intelligence and machine learning innovation?
Is my tech proprietary? and
What are classed as IP assets?
Click here to watch the full free webinar or click on the video below:
Virginia and Tom are co-authors of the intellectual property chapter of the leading book on The Law of Artificial Intelligence.
This briefing is for general information purposes only and should not be used as a substitute for legal advice relating to your particular circumstances. We can discuss specific issues and facts on an individual basis. Please note that the law may have changed since the day this was first published in February 2021.